DIY projects are a way you can truly make your home your own.
Whether it be something as small as refurbishing the desk you found at an antiques shop, or taking on the task of completely renovating your living room, 'doing-it-yourself' pushes you to explore your creativity and add personalised touches to your home through the use of colours, textures, fixtures and more.
You may be looking for things to do to pass the time, or easy tasks you can get started on to transform your space – well you're in the right place.
In this article, we're going to go room by room and explore some of the Easy DIY projects you can do in your home.
What are the Benefits of DIY Tasks?
Before we get started, lets take a look at the benefits when it comes to taking on your own projects at home.
Firstly, the biggest perk to doing things yourself is the cost. You can cut the finances in half, or even more by going to craft stores, second-hand shops and sourcing the materials for the project yourself. It does take extra time, but can save you a lot of cash in the long.
Taking on a project can also lead to developing a new skill. Things such as sewing, painting, and building are all skills that you can use to create beautifully hand-crafted items that have a touch of uniqueness to them.
Learning this new skill is a good way to pass the time during Lockdown, over the summer break or as you're heading into retirement.
As suggested in by David Ning in his 'Many Benefits of DIY' article, you can earn money from your newly found skill. Using a DIY project is a great side hustle, as it stimulates creativity whilst allowing you to earn a little extra cash.
DIY tasks can also benefit your mental health, as they can help easy stress and take your mind off things. If you're looking for a break from modern life, put down your phone and pick up a paintbrush.
So now you know the benefits, let's explore some DIY tasks throughout each area of your home.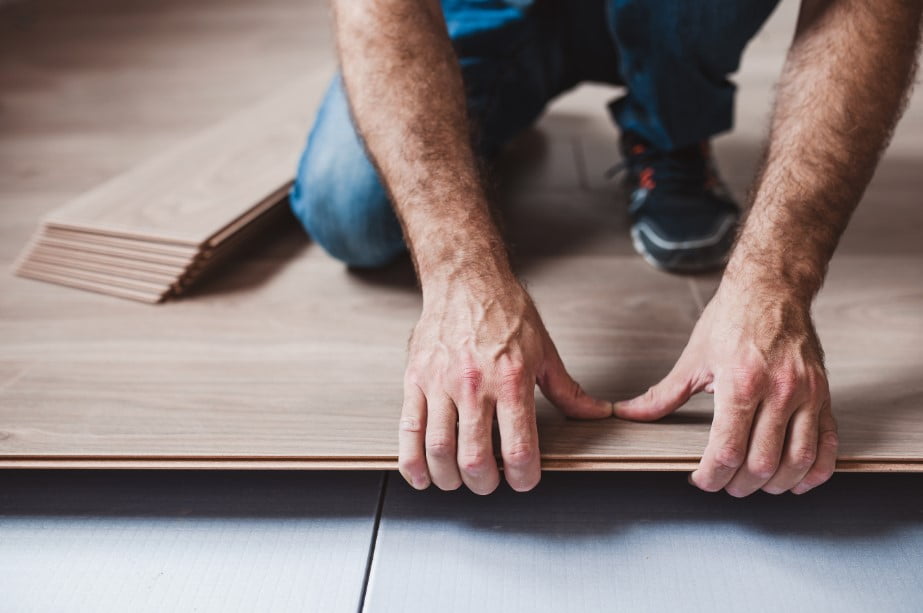 DIY Room by Room: What are some easy DIY projects?
No matter what project you're going to take on, the main thing you're going to look for is ease. Whether you're a DIY expert or just starting out, you want the process to be as smooth as possible and still achieve the desired final outcome. Here are some easy and 'professional-looking' DIY tasks that you can do in your home.
Easy DIY Kitchen Tasks
Build a pots & pans rack
If you have any spare wood pallets lying around, you can actually use them to create a pots and pans rack. These are commonly seen in farmhouses and add that homely feel to your kitchen. They're also a great storage solution and can help to keep things organised, and you're also utilising materials you may have otherwise thrown out.
Resurface the Cabinets
One of the biggest ways to modernise the look and feel of your kitchen is to add new cabinets and worksurfaces. It can transform your kitchen, however, it comes with a cost.
By simply sanding down the surface and adding lick of paint can spruce up your kitchen without the heavy price tag of a complete remodel. This can even be done by adding wallpaper, a DIY task commonly done to create a feature item stand out, such as the fridge.
DIY Laminate Flooring
If you're looking for a bigger DIY task to take on yourself, it might be time to look at replacing the laminate flooring in your kitchen. It's actually a lot easier than it sounds – as long as you have the correct laminate flooring underlay  and your choice of laminate floorboards, you can create the kitchen flooring of your dreams. You may find our Laminate Flooring Guide useful if you choose to do this.
£

2.51 –

£

250.64

£

9.25 –

£

923.80
DIY Tasks for the Living Room
Create your own cushions
Customised knickknacks are what truly makes a home unique. Different fabrics can work wonders to change up a room, which is why an impactful but easy DIY task for your living room is to create your own cushion covers. If you're a novice with a sewing machine, not to worry, there are plenty of DIY cushion cover kits and tutorials available online.
Customise your coffee table
Whether it be throwing on a tablecloth or completely repainting, customising your coffee table can add style and creativity to your living room. There are also lots of easy DIY décor projects you can complete to add unique items to your coffee table, such as painting old books, refurbishing second-hand vases, or even using a tray to create a centrepiece display.
DIY Carpet Installation
If the DIY décor isn't cutting it, it could be time to think about a new living room carpet. This doesn't have to require a specialist carpet fitter, you can easily install a carpet yourself with the right materials. Choosing the correct carpet underlay (link) can have a big impact on the quality of your carpet fitting, as it can help with things such as noise reduction and insulation.
Download our FREE Underlay decision tool
Be sure to choose which underlay is best for your needs.
Find the right underlay product based on floor type, warmth rating, soundproofing or thickness.
See which products are best for which room or stairs
Bedroom DIY Tasks
Custom Paintings
Having artwork in your home is a great way to personalise your space and add a statement to any room. If you're into arts and crafts, painting your own canvas is a fun DIY décor project that is perfect for the bedroom. Canvas paintings can be expensive, so doing this yourself can also save you a penny or two.
DIY Bedroom Storage
Storage can be a problem if your bedroom is small, so being savvy about storage options can actually help to make the space feel more open. There are plenty of DIY storage projects you can do for the bedroom, including using old materials you have to create sturdy shelves, installing a wardrobe organisation system, or using a clothing rail or an old pole as clothing storage.
Remodelling Second-Hand Items
Purchasing new furniture can come up pricey, and second-hand isn't always to your taste. However, second-hand furniture doesn't always have to stay in the condition that it was bought in. Remodelling thrifted furniture can make for a nifty little DIY task. Adding a quick splash of paint to your chest-of-drawers can change the whole look of the piece.
DIY Bathroom Projects
Replace the Faucets
Small details such as faucets can have a huge impact on the overall design of your bathroom but can be expensive to replace. Thanks to modern plumbing, replacing your faucet can now be done DIY style, but it still may be worth checking out this faucet replacement guide if you're thinking of doing this.
Add a Feature Wall
This may sound strange to do in your bathroom as they're often seen in other rooms throughout the home, but adding a feature wall can truly elevate the space. It's becoming increasingly popular in modern bathroom designs to see a feature wall, and can be done using tile, paint or even splash proof wallpaper. These materials are pretty common in most hardware stores, so adding a feature wall is an easy but impactful bathroom DIY task.
These are just a few of the brilliant ways you can transform your home using DIY. To learn about bigger remodelling tasks that can add value to your home, click here.