Making value-adding changes to a home is on many people's to-do lists.
Everyone wants to maximise the value of the investment made when purchasing a property and carrying out a DIY upgrade or paying for tradespeople to do some remodelling is a great way to achieve it.
There are many ways that you can make changes to a property (ranging from extensive redesigns to simple redecorations) which would have a significant impact on its value.
In this article we discuss some of the most common major renovation projects that can help add value to a home.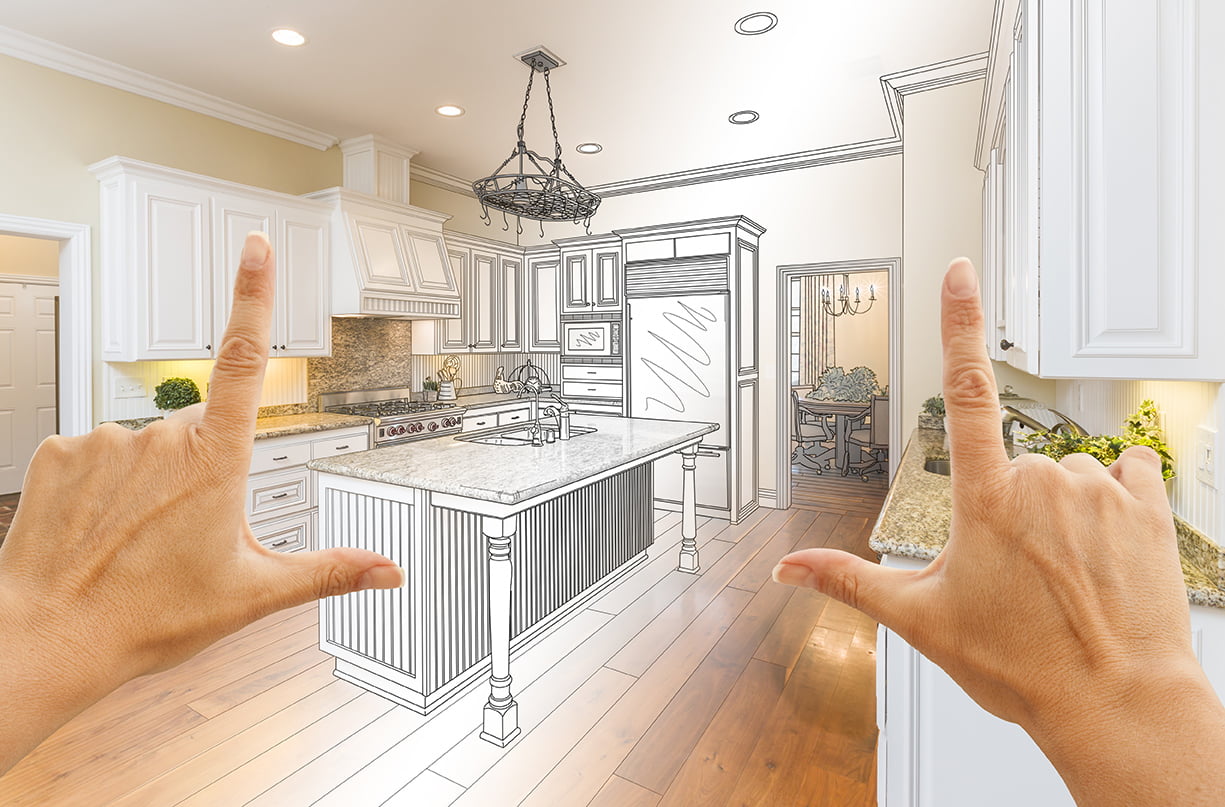 Converting an attic or cellar
We start with one of the more ambitious (and therefore usually more expensive) home renovation ideas.
Unused or underused cellar and attic space could add some significant value to a home if successfully renovated and decorated to some extent.
An attic can become a bedroom or office, or even just more useable storage space with clever fixed cupboards and a reinforced floor.
Cellars too may become bedrooms, utility rooms, game rooms or even fully contained studio living spaces (e.g. small kitchen, bathroom, sleeping and living space).
In both cases the area of the room is likely to be large, possibly the same as the entire floor plan of the house, but the ceilings/roofs are lower, there are few or no windows and access to electricity and water can be tricky.
Nevertheless, a successful (and cost-effective) attic or cellar conversion is a great way to improve a house.
Turning a house into flats
If you don't need to live in your property, or at least not in the same way, then another of the biggest and most valuable home renovations you can undertake is to split a house into multiple flats.
This isn't a project that should be undertaken lightly and will usually require planning permission with clear architect's input.
But if you can successfully transform a single dwelling into two or more flats you can add a huge amount of value to the property.
Those flats can then be sold separately or rented out, so that you would benefit from both a rental income and eventual property increases.
Adding a garage or parking space
Many houses and flats in more built up areas don't come with off-road parking, and this can be a major downside for owners or renters.
If the street is busy you might be forced to park very close to other vehicles, requiring tricky parallel manoeuvres and risking damage from passing traffic every day.
In the worst case scenario you might struggle to get a space every day and be forced to park streets away.
On-street parking also increases the risks of criminal damage to a vehicle and sometimes drives up insurance costs.
To get around these issues a value-adding DIY project to consider is building a garage or drive.
A garage will need more land and may require planning permission while a new drive could need to be reviewed and approved by local councils as it represents a change to the road layout.
Giving residents a safe place to park can be a great addition to a home.
Converting a garage
However, maybe that garage already exists, and it isn't really needed anymore.
One of the most common reasons to renovate your home is because you need more bedroom space.
Perhaps the kids are growing up and need separate rooms or an older family member is going to move in or spend more time at your house.
You could also need office space if you are working from home (which is happening more and more these days) and the dining room table is becoming too difficult to keep working at.
In all of these situations, converting a garage is a great idea and it can also add value to the property too.
This project could be as large or small as you like and, in the right house, it can be one of the best renovations to add value to homes relative to the investment needed.
A simple remodel might just involve decorating the walls, adding some warmer flooring and changing the door.
However, if you want to go bigger you might consider adding a storey to the garage building (either a full floor or just some extra storage space for all the things currently in the main part of the garage) and/or connecting the building to the house if it isn't already.
If adding value is your main goal however, make sure you weigh up what losing that parking and storage space could mean to a new prospective owner.
Extending your kitchen or lounge
Sometimes, the older a house, the smaller the kitchen and lounge space (that's very generalised of course!)
But these are two of the rooms where many people spend the majority of their time at home, so extending them makes a lot of sense if your aim is to increase the property price.
DIY extensions could involve building out into the garden or yard, perhaps adding a conservatory, or knocking through to use up a utility room, closet, pantry or unneeded bathroom.
Another option is to go open plan – remove the internal walls and link your living spaces together.
Builders will advise on load-bearing walls that can't be fully removed and/or use of pillars or columns to take the weight where needed.
Remember that an open plan room needs a cohesive decorative scheme too – everything from the flooring type to the ceiling paint scheme will need to be harmonised to make it feel like one big room with multiple spaces.
Getting your project done
Depending on the size of your renovation there could be a few things you need to get sorted in order to complete the project.
Planning permission – for bigger remodels planning permission will be needed. In fact, simply applying and receiving it alone, without doing the project, is another popular tactic for increasing the value of a property.
Building regulations – some renovations will need to satisfy local authority regulations on safety and so will need building regulations assessment. These can be straightforward to acquire if you are using reputable providers and following the advice provided.
Certified tradespeople – for your own peace of mind it is recommended to use tradespeople with professional certification – but when it comes to increasing property prices, for some things it is critical. A Gas Safe or HETAS engineer will be needed to fit some heating equipment in an accredited manner for example, and any potential buyer (or more accurately, their solicitor) will ask to see the certificates they should provide.
While some of these processes might feel painful or even completely unnecessary, remember that your goal is to add value to your home and most buyers won't be happy if you can't prove that the work is safe and meets with local laws.
The last thing anyone wants is to fall in love with a house because of its wonderful kitchen extension only to be told by the local authorities a few years later that it is against regulations and needs to come down!
Approach your project right and you could make a real and lasting contribution to a property that also adds value – definitely an investment worth your time.