There are many reasons to fit underlay in your home, the main one being to protect your flooring and prolong the life of it.
For some, the most important factor is comfort. Underlay can have various levels of comfort depending on:
Thickness
Material
Density
Tog.
Underlay with a high level of comfort is usually required for areas of relaxation, which could be the bedroom, dining room or lounge.
In this article we are going to discuss the most luxurious and comfortable underlays for every budget.
Best carpet underlays for the bedroom
When it comes to a bedroom, there is usually not very high foot traffic and the focus is mainly on comfort and a soft underfoot feel.
The Tredaire Dreamwalk is a luxurious carpet underlayment that has excellent cushioning for an extremely soft underfoot feel.
The 11mm thickness doesn't just provide a soft surface to walk on, it also does a fantastic job of protecting your carpet.
Other benefits of this product include:
The high tog rating of 3.13 will provide plenty of warmth in your home.
The noise reduction rating of 44db makes the Tredaire Dreamwalk one of the best products for impact noise reduction. This includes sounds such as walking, jumping and dropping objects.
The PU foam material is lightweight, durable and adds to the comfort of this product.
The Tredaire Softwalk is also a high comfort option for underlay in your bedroom. If you are looking for a slightly more budget friendly option, then the Tredaire Dreamwalk has some fantastic features, some of which include:
A 9mm thickness which provides good cushioning and a soft underfoot feel.
A high tog rating of 2.69 which will work to keep the heat from escaping the room.
An excellent impact noise reduction rating of 41db.
Made from high quality PU foam material.
Luxurious underlays for the living room
The living room is another area of relaxation where it is important to have a comfortable underlay.
The living room or lounge usually receives higher foot traffic than the bedroom, so the requirements you will need from your underlay are slightly different.
The Mohawk Smart Cushion is one of the most luxurious underlays on the market.
The advanced visco-elastic memory foam construction is specially designed to give the softest underfoot feel with every step.
Here are some of its other brilliant benefits:
The PU foam visco-elastic material will resist from making dents in your floor by moulding the carpet to its original state once heavy furniture has been removed.
The incredibly high noise reduction rating of 54db will do an outstanding job of reducing sounds in your home such as running, jumping or walking.
The spill safe moisture guard stops the underlay from absorbing liquids, so they can't seep through the carpet.
Its hypo-allergenic properties and antimicrobial additives stop the formation of mould, mildew or fungus.
If you are looking for a slightly more budget friendly option whilst still maintaining a good level of comfort, the Cloud 9 Cumulus is a great option.
Here are its top benefits:
With an 11mm thickness this fantastic value for money underlay provides excellent comfort.
The noise reduction rating of 43db will greatly reduce impact noise in your home.
The 3.1 tog rating will maintain heat and keep your living room warm and cosy.
Thick underlays for the dining room
Although there is usually heavy furniture in the dining room, this does not mean you have to choose a heavy contract underlay that has a firm underfoot feel.
You can have the best of both worlds with high comfort and excellent durability by installing the Tredaire Colours Red.
This is a dense product that is perfect for high foot traffic and heavy furniture as it will absorb shock and provide a lot of cushioning.
Its top benefits include:
Its 11.4 thickness gives a soft and luxurious underfoot feel.
The 46db noise reduction rating will dramatically reduce impact noise.
The sponge rubber material provides outstanding durability and protection for your carpet.
What is the thickest underlay available?
One of the thickest carpet underlays available if the Underlay4U 12mm.
This is a super thick underlay that will provide maximum comfort in your home. It is possible to buy thicker underlay than 12mm, although this would be a little unpractical and quite difficult to fit.
The Underlay4U 12mm doesn't just provide plenty of cushioning, it also:
Has a fantastic impact noise reduction rating of 41db.
Provides excellent heat retention with a tog of 2.96.
Is made from a high quality PU foam material that is produced in the UK.
What is the cheapest soft underfoot feel underlay?
If you are looking for a soft underfoot feel that is also incredible value for money, then the Underlay4U 9mm magic is the perfect choice.
The 9mm thickness provides good cushioning and shock absorption from high foot traffic.
It is also a versatile underlay that can be used in many different rooms, including the stairs.
More on the Mohawk SmartCushion (the most expensive option)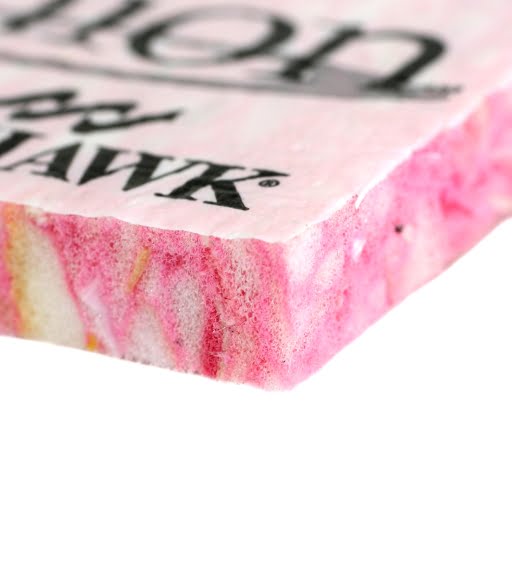 The Mohawk Smartcushion underlay is 11mm thick, made from ViscoElastic Memory foam, which means when heavy furniture is placed and causes dents in the carpet, the carpet underlay will quickly return to its original state once the stress has been removed.
The Smartcushion underlay is a very luxurious comfort under foot, it has a spill safe moisture guard that prevents pet stains and spills from seeping into the sub floor and re-appearing later making a clean-up a 'once and only' process. Hypo- Allergenic is also a key benefit.
Made from re-cycled foam and has Antimicrobial additives to inhibit odour causing mould, mildew and fungus in spills that aren't cleaned up right away. And with every roll that is purchased a donation goes to Susan G Komen for the Cure for breast cancer research.