This article will give you clear and thorough guidance into the different cloud 9 carpet underlay or laminate/wood flooring options, that are currently available from Ball & Young manufacturers.

Ball & Young is a company that's dedicated to manufacturing their products in the UK. The foam underlay from Ball & Young is known to have good compression recovery properties and often a good degree of comfort depending which product you choose.
Top products from Ball & Young…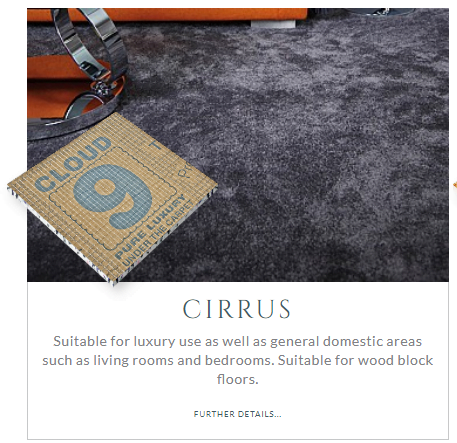 Before looking at the full range of products, let's take a look at the important specifications, how to choose the right Cloud 9 products and where to find the best prices.
We'll also address one of the most common questions – 9mm vs 11mm.
Important Cloud 9 specifications
There's a few specifications to look out for when choosing underlay from Cloud 9. The ones that are important are:
High vs low density
High vs low tog rating
Thickness
Sound insulation (db rating)
Keep reading to see comparisons between the top products.
Choosing the right roll size, thickness & density
Best Cloud 9 Roll Size
The most popular Cloud 9 roll size, when laid out is 15m2 (11m x 1.37m), but it can be purchased in quantities of smaller multiples, for example half rolls or full rolls. That means you don't need to over-purchase.
When rolled up, prior to fitting, the roll measures approximately 1.37m x 0.4m.
The roll size you need will depend on the size of your room and products can usually be bought in multiples of between 5m2 and 15m2.
Some stores will allow you to purchase by the individual square meter, which means you can save money not having buy more than necessary. However, it's also important to consider buying slightly more for wastage reasons.
Best Cloud 9 Thickness
The thickness of cloud 9 underlay ranges from as low as 6mm to as high as 11mm. Generally, if you're laying your new carpet in your bedroom or lounge, you might opt for a thicker product.
However, if you're looking to lay it in areas where there's a lot of curves to contend with, such as the stairs, then carpet fitters would usually prefer a thinner product of approximately 9mm-10mm.
Best Cloud 9 Density
The density of cloud 9 also varies. Again, the location of your flooring will determine which is the best density for you.
High density is necessary is great if you put it in areas of high foot traffic.
And a lower density works well in areas of comfort.
Where to find the best cheap price for Cloud 9
The best price for cloud 9 is often found direct through carpet underlay suppliers themselves such as Underlay4u.
We constantly check our prices against competitors and aim to be extremely competitive in price along with a first class delivery service designed around you.
Take a look at our 2 best selling products to get a feel for pricing
However, if you're looking for cheapest possible, then Cloud 9 probably isn't the best choice for you because it's a premium range.
Do you want the cheapest?
For example, Underlay4u offers great value for money options if that's what you're looking for.
A couple of alternatives might be these:
What's best 9mm or 11mm?
This is one of the most common questions we get asked. In short, 9mm is generally best for high traffic areas such as stairs and 11mm is best for comfort areas.
There are other specifications that need to be observed. So, have a read of the product specifications below for the full range of options when choosing the thickness you need for your Cloud 9 Underlay.
Reviews of All Cloud 9 Underlay Products from Ball & Young
Cirrus 9mm Carpet Underlay

Cloud 9 Cirrus is a 9mm thick PU Sponge Foam underlay manufactured by Ball & Young Ltd.
This quality underlay is used where a general/high degree of comfort is required around the house. It gives superb luxury underfoot as well as giving sound proofing & insulation properties.
Being 9mm Thick you can be rest assured you won't have trouble opening your doors.
Therefore, we recommend Cloud 9 Cirrus for areas such as Stairs & Hallways.
It's a fantastic underlay which has been voted No.1 in the trade.
It comprises a stitched paper backing to prevent overstretching and can be used in all areas from general to heavy domestic and all types of floor surfaces including Wood, Concrete, and Asphalt.
This underlay would be an investment whether it is going under a new carpet or an existing one this underlay will last for the lifetime of the carpet.
Cumulus 11mm Carpet Underlay
The cloud 9 Cumulus is a Ball & Young best seller. It's highly sought-after by tradesmen and consumers. This is partly because of the outstanding ratings it has at such a great price.
The Cumulus is a 11mm  thick underlay, which has a warmth rating of 3.1 tog and a sound reduction rating of 43db. It's one of the best on the market for both sound and heat properties.
You can read more detail about the Cloud 9 Cumulus 11mm here on our product page:
Read all our product reviews of the Cumulus here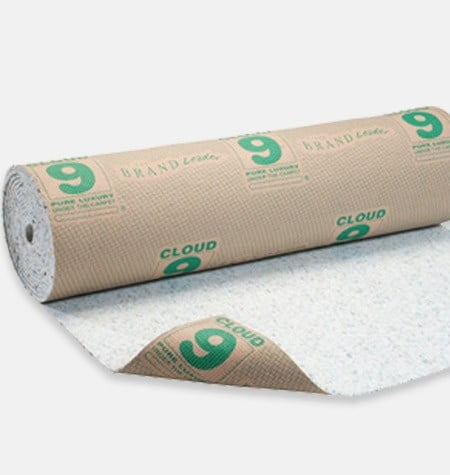 Buy Cloud 9 Cumulus for living room
The Cloud 9 Cumulus is a comfortable, thick underlay with excellent sound reduction properties and a high tog rating.
Nimbus 7mm
The Cloud 9 Nimbus 7mm Foam Underlay is made by Ball & Young It has a softer and more pliable backing, excellent thermal insulation of a Tog rating of 1.9 which means it retains the heat for comfort and warmth underfoot.
Also with the additional benefit of the Acoustic weight reduction properties of up to 34db it will give help to ensure some peace and tranquillity throughout your home but is generally used for those with very thick carpets.
It's a great budget-based underlay but doesn't compromise on quality.
Children's Cushion 9mm
The Children's Cushion is a 9mm thickness, which can be used in living rooms and bedrooms. Being less thick, it is likely to have a firmer feel to it.
The thermal rating is 2.6 tog and the sound reduction rating is 39-41db.
Eco Cushion for Artificial Grass
The Cloud 9 Eco cushion is designed for use with artificial turf. It' s an essential part of laying your new grass.
Not only will it provide a much-needed cushioning for comfort, it will also allow the flow of water through the turf. That means moss and growth will be prevented over the long term.
It's extra high density of 210kg/m3 is very important because it means the surface can take much more intense usage of your new lawn. Perfect if you have a family or regularly have children in your garden.
Cush N Wood Cloud 9 for Laminate
CUSH 'N' WOOD is suitable for solid or laminate flooring or engineered wood floors. It has a 4mm thickness and 1,0 tog rating. The sound reduction rating is 25-56db.
As expected, these specs are lower than the carpet options. It does offer a comfortable feel, but is not to be replaced for a damp proof membrane. If you need a damp proof membrane, then you may be better to by an underlay with one built in.