Contents
Best Soundproof for Carpet underlay
Best Soundproof for wooden or Laminate flooring
Soundproofing underlay for underfloor heating
Are you getting the best out of your underlay? The main purpose of underlay is to, of course, protect your flooring. But, what if you could bring some peace and quiet to your home at the same time as protecting your carpet?
You can also benefit from better heat insulation and so many other features. This article will tell you exactly how beneficial soundproof underlay can be and how to find the right one for your specific environment.
Did you know that many companies claim to be have soundproof products that may not actually work? Keep reading to find out how to avoid being mis-sold and be one step ahead of misleading sales pitches.
Download our FREE Underlay decision tool
Be sure to choose which underlay is best for your needs.
Find the right underlay product based on floor type, warmth rating, soundproofing or thickness.
See which products are best for which room or stairs
Soundproof Underlay for Best Noise Reduction
The Tredaire Colours Red is our best underlay for impact noise reduction. If noise reduction is your main concern over anything else, this is the product for you. Here are the benefits:
Material – This sponge rubber material does a fantastic job of blocking out noise.
Thickness – The 11.4mm thickness is another factor that contributes to the impact noise reduction. It will also give great comfort and do an excellent job of protecting your flooring.
High Density – This makes it perfect for rooms with heavy furniture or high foot traffic.
Top 3 soundproof underlay products
If you are looking for something a little more budget friendly, the Carpenter Deep Step is also a best seller in regards to impact noise reduction. Here are the benefits of this product:
Price – For the features you receive with this product, it is great value for money and budget friendly.
The impact noise reduction of this product is 46db, the same as the Colours Red
Thickness – The 11mm thickness offers ultimate comfort and a soft underfoot feel.
Material – This underlay is made of PU foam. This is what allows it to do such an excellent job at impact noise reduction.
Tog – The high rating of 2.78 tog is a real bonus to this product and will make a huge difference to keep the heat in your home.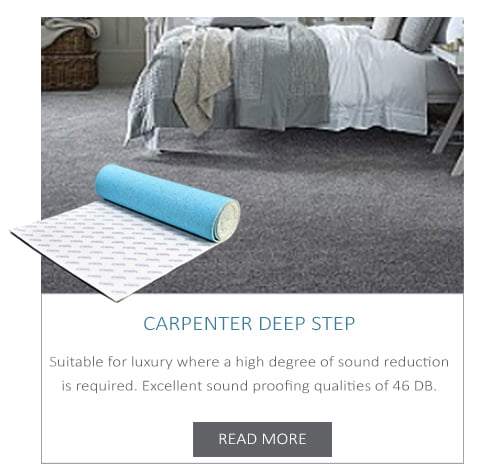 Soundproof Underlay for Laminate Flooring – High Quality Foam
Our Super Gold  will do the best job at soundproofing as a laminate flooring underlay. Here are its top features:
Thickness – The 5mm thickness is optimal for this type of flooring. This is the thickest you can go for laminate flooring, so will provide the ultimate comfort and softest underfoot feel you can achieve.
Material – The high-quality foam material is great at soundproofing.
Density – This product has a high density which is also perfect for soundproofing.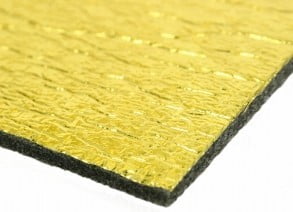 Buy Super Gold for the best soundproofing for laminate flooring
Super Gold is our best product for soundproofing laminate flooring. It has a fantastic thickness and quality and will do an excellent job at sound reduction.
Soundproof Underlay for Wooden Flooring and Engineered Wood
Wooden flooring is a popular choice for the home as it can be very stylish and add value. There are so many different types of wooden flooring you can choose, all of which need different types of underlay.
For engineered wooden flooring, we recommend the Super Gold. This will provide excellent impact noise reduction and engineered wooden flooring is heavy enough to keep the underlay in place.
However, we wouldn't recommend this for solid wooden flooring as this will require some kind of adhesive to keep the underlay in place.
What is Soundproofing? – What to Consider When Blocking Noise
Sound is made up of vibrations that travel through the air in wave-like motions. They can travel through liquids, solids or gases and interact with our ear drums which is then interpreted by our brains.
In simple terms, soundproofing is any way of reducing sound travel from one place to another. There are lots of different ways to soundproof, all with different levels of effectiveness.
The features of the room and the type of sound are two major factors to consider when doing this, however you should also take into account:
Distance – How far away you are from the noise.
Materials – What materials are in the house which the noise will be travelling through.
Loudness – You want to consider how loud the noise is. This is because you don't want to overcompensate and put in place far too much soundproofing than you actually need, as this is a waste of money and can damage the quality of sounds.
For a more in depth explanation of the different approaches to soundproofing, read this post from Resonics.co.uk. 
How Can Underlay Reduce Sound and Loud Noises?
There are lots of different materials that can be used for sound reduction, all with their own list of benefits. Some materials that are effective include:
Acoustic Panels
Wooden Panels
Anti-Vibration Pads
Vibration Isolators
These are some good options for walls or furniture, but not for your flooring. If you put them under your floor they might achieve some soundproofing but would definitely not protect your floor or carpet. This is why underlay is needed.
There are two unique materials which are fantastic for your floor; foam and sponge. These materials will protect your carpet and do a great job at sound reduction. This is because they are porous materials, meaning they have tiny little holes in.
Tech Walla tells us that porous materials allow sound to pass through, converting it into a much smaller amount of friction energy. Sound is made up of vibrations and less friction energy means less vibrations, resulting in a much quieter sound.
However, not all foam and sponge products will be efficient at soundproofing. This is because they can have different cell structures, so it is best to opt for products that are made specifically for this task.
 
What is Airbourne Soundproofing?
It is important to know that there are two types of sound reduction. The first is air borne noise reduction. This is the reduction of noises such as:
Speech – talking, shouting, baby crying.
Devices – Television, radio, computers.
Animals – dogs barking, cats purring, birds squawking in the early hours of the morning.
Transport – cars, buses, trains.
You will find in the underlay market that lots of companies claim their underlay products will completely block out air borne sounds. Unfortunately, this is not entirely accurate.
Underlay is not technically designed to block out air borne sounds. This is because if underlay was 100% air borne soundproof, it would be a completely solid material that has no comfort and wouldn't protect your carpet.
At Underlay4U we have realised this through our extensive research. A small amount of sound reduction must be compromised to ensure maximum comfort and carpet protection, which is what underlay is intended for.
What is Impact Noise Reduction?
Impact noise reduction is exactly what underlay is designed for. This is generally the sound of footsteps, which can include:
Running
Walking
Jumping
Dropping objects
This is much easier to block out whilst keeping the comfort. The foam and sponge material are excellent at blocking out this kind of noise, which is why we use it in our underlay.
The higher the figure is for the impact noise reduction is best to purchase for impact noise reduction.
If you are wanting to stop noise from upstairs then an option is to block up any joists with Rock Wool and ensure any gaps that the noise can travel through has a deterrent then choose a high noise reduction underlay such as the Carpenter DeepStep 11mm or the Colours Red 11.4mm.
Where will I need Sound Reduction Underlay? – Which Rooms You Should Soundproof
Before you purchase underlay, it is really important to determine which room you are buying it for, especially when it comes to soundproofing. Although you should have underlay in every room in your house, you do not need soundproof underlay in every room.
It is usually unnecessary to fit it in any rooms on the ground floor. Unless you have rooms below the ground floor, we wouldn't recommend soundproofing because there is nowhere for the sound to travel to underneath.
When it comes to the first floor of your home, it is still not necessary to soundproof every single room and it is down to the individual and their circumstances.
Soundproof Underlay for your Bathroom
When it comes to the bathroom, it really is down to personal preference. If hearing noise from other parts of the house in your bathroom bothers you, you may want to invest in soundproofing underlay.
However, it does not bother most people as you may be in the shower or have the radio on in the bathroom which will do a great job of blocking out noise.
Soundproof Underlay for your Bedroom
This is usually the most popular room of the house to soundproof. For many, the bedroom is their quiet place and a room of relaxation. If you have a floor above your bedroom or below it, it is a good idea to invest in soundproofing underlay.
There is nothing worse than trying to get to sleep at night and hearing constant footsteps and other people in your house still awake and moving around. Soundproof underlay will do a great job at reducing this noise and help you get a better night's sleep.
Soundproof Underlay for the Office
Whatever kind of office you have, whether it's at home, shared or in a city, it is usually a place of concentration. Other people walking around in your office above you can be an irritating distraction. Putting headphones in and listening to music could block some of this noise out, but music can also be a distraction from work.
Soundproof underlay is great for offices to block out foot traffic. Make your workspace a place of concentration and get rid of unnecessary distractions.
What Else Will Soundproofing do for my Carpet and Home?
Soundproofing underlay is a great way to bring some peace and quiet to your home or workplace. Not only will it reduce noise, but it is also essential for protecting your flooring.
These products are also great for insulation and will help keep the heat in your home. Soundproof underlay is a fantastic investment and has so many long-term benefits.
Apartment Noise Cancelling with Underlay
Sound reduction underlay is not just for a house, it is also perfect for apartments. We have had many customers enquiring about how they can reduce the noise from apartment neighbours above them. We have also had considerate neighbours wanting to soundproof their apartment, so they don't bother the apartment below them.
Whichever situation you are in, soundproofing underlay can make a huge difference. Whichever room it is or whatever type of flooring you have, noise reduction underlay will make your home environment much more pleasant and peaceful for you and your neighbours.
What is the best Soundproofing Underlay? – Blocking Noise and Providing Comfort
The best material for soundproof underlay is foam or sponge. These materials are great at blocking out sound and they also provide exceptional comfort, and we stock some fantastic options for all preferences and budgets.
Depending on what type of floor the underlay is for will depend on the type of material and thickness you can go for. Unfortunately, foam or sponge can not be used for every single type of flooring as it can be too thick.
Buy Duralay King for your underfloor heating
Duralay king is the best option for reducing impact noise on floors with underfloor heating. It is a product used for carpets and not suitable for laminate.

Soundproof Underlay for Underfloor Heating – Top Quality Sponge Rubber
Underfloor heating is a great way to keep your home warm and add a touch of luxury. It can be easy to forget underlay when installing underfloor heating, but it is so important. Underfloor heating can be a costly investment, so protect it and the floor with some high-quality underlay.
For soundproofing, the Duralay King will do a fantastic job. Here is a breakdown of the benefits of this product:
Thickness – For underfloor heating, we wouldn't recommend going over 8mm thick, as the heat may start to struggle to get through. The Duralay King is the thickest you can go for underfloor heating, so will provide the best comfort and softest underfoot feel.
Material – The Duralay King is made from high quality sponge rubber. This will do an excellent job at impact noise reduction.
Easy to Handle – The thickness and material of this product makes it very easy to handle. Whether you are fitting it yourself or using a carpet fitter, this product will make the whole process a breeze.

If you are looking to soundproof underfloor heating for laminate flooring, the Duralay Heat Flow is the best product. Here are its top features:
Thickness – At 2.75mm, it is a mid-range thickness for laminate flooring. This combines the best of both worlds as you will still receive good comfort and good impact noise reduction.
Tog – The rating of 0.33 tog is perfect for underfloor heating as the heat can pass through easily and quickly.
Material – Sponge rubber will do a great job at soundproofing.
Buy Duralay Heat Flow for your laminate underfloor heating
Duralay Heat Flow is our best product for reducing impact noise on laminate floors with underfloor heating. It will help conduct the heat whilst reducing sound.

For even more tips on soundproofing your home read this article