Do I need special underlay for underfloor heating?
Underlay is vital for any kind of flooring but if you have underfloor heating, there are a few more factors to consider.
Lots of underlays are designed to be thick and cushion-like so they feel soft and provide insulation. These sorts of products do not work with underfloor heating because they act as a barrier to the heat trying to come through.
Instead, you need a thin product with a low tog rating.
Which underlay you need will also depend on whether you're laying carpet or laminate over your underfloor heating.
This blog post will cover the best underfloor heating underlays for use with carpet, laminate and engineered wood flooring. It will also touch on some of the problems associated with certain flooring types and highlight some of the most important factors to consider when purchasing both underlay and flooring.
The best carpet underlay for underfloor heating
Duralay King is the best product for allowing the heat from your underfloor heating through your carpet and into your home. This is because it has a low tog rating which indicates good thermal conductivity.
It also has an outstanding impact noise reduction rating of 42mb and it's extremely durable.
The Duralay King also has a high density which absorbs the shock from foot traffic so that your carpet doesn't have to. This is what prolongs the life of your carpet.
Watch our video on Duralay King for Underfloor Heating
12,000 views: View the transcript here
Current best underlay products for underfloor heating
£

11.70 –

£

1,168.61
What are the best products for laying laminate flooring over underfloor heating?
The Duralay Heatflow Underlay features Thermylin for better heat conduction so it's one of the best options on the market. It also offers significant impact noise reduction which can be especially important with a laminate floor.
This product works well with floating laminate, solid timber and engineered wooden floors. Subject to proper use, it also comes with an impressive guarantee.
The other professional approach is to use the Quick Therm Underfloor Heating Underlay. This product has been designed especially for use with underfloor heating (maximum temperatures of 45°C) and it's also suitable for high traffic areas of the home.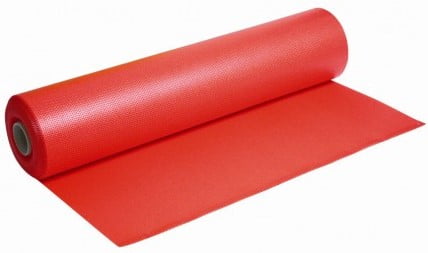 Buy Quick Therm Laminate Underlay for your underfloor heating
The Quick Therm laminate underlay has outstanding durability and a low tog rating for excellent thermal conductivity.
Other benefits of the Quick Therm include:
The high density poly-foam material absorbs shock from foot traffic and gives this underlay outstanding durability that will protect your flooring and prolong the life of it.
This product also offers good impact noise reduction which will reduce the sound of foot traffic from floors above.
Why should I put laminate flooring over my underfloor heating?
Laminate flooring is a great choice because it resembles a high-quality wood finish whilst being stain and scratch resistant.
Unlike wood, laminate flooring will not dry out and shrink in reaction to the heat from the underfloor heating. 
It's also easy to lay, there's plenty of choice and it's an affordable way to create a sleek look.
However, there are a few things to consider:
Heat from the underfloor system needs to be spread evenly with no hot spots that could cause conduction or quality issues.
• The laminate must be laid as close as possible to the subfloor. If there are gaps between the layers, the flooring may suffer from drying out. This means a thin underlay like one of those mentioned above is essential.
• The room should be kept at a humidity of around 60% during and after installation.
Which underlay is best for engineered wood?
COMBAT PLUS FOR ENGINEERED WOOD WITH UNDERFLOOR HEATING
The Combat Plus laminate and wood underlay comes with a built-in water repellent feature to protect against excess moisture. Its low tog also makes it a perfect product for underfloor heating.
The Combat Plus is a versatile underlay that can be used in many rooms of the house, including those with engineered hardwood floor.
It's a great choice for underfloor heating too because it has a low tog rating which means it's a good thermal conductor.
Its other benefits include:
The versatility of this product is outstanding as it can be used for domestic use or contract use with heavy footfall.
Its noise reduction of 19db will do a good job of reducing sounds from footsteps.
The built in water-repellent feature protects against excess moisture. This is perfect for rooms that are prone to accidents and spills, such as the kitchen.
Download our FREE Underlay decision tool
Be sure to choose which underlay is best for your needs.
Find the right underlay product based on floor type, warmth rating, soundproofing or thickness.
See which products are best for which room or stairs
The most important factors to consider when buying underlay for underfloor heating
Tog rating
You have probably heard us mention 'tog rating' a number of times throughout this post. This is because it is the most important factor to consider when purchasing underlay for use with underfloor heating.
Tog rating indicates how much or how little thermal insulation a product provides.
For underfloor heating, you want a product with a low tog rating. This will allow the heat to travel through the underlay, through the flooring above and into your room.
For more information about tog ratings, read this:
Highest & Lowest Tog Rated Underlays
Perforated underlay for underfloor heating
You may have heard about perforated underlay for underfloor heating before.
Perforated underlay has a unique structure which has been especially designed for optimum thermal conductivity.
Our best selling perforated product is the Quick Therm which we mentioned earlier in the post.
PU Foam Underlay for underfloor heating
PU Foam products have become a lot more popular than rubber alternatives in many. However, they aren't the best choice for rooms with underfloor heating.
PU Foam products tend to have a much higher tog rating so they act as a blocker to the heat trying to get through into the room. Instead, one of the underlayments mentioned above would be a better choice.
Why underfloor heating is the modern alternative
Many homes across the country are deciding to invest in underfloor heating, sometimes an alternative solution to traditional heating, in the form of gas radiators and electric heaters.
The purpose of this is underfloor heating can save you a lot of money because it is seen to be a more efficient way of heating a home.
Because heat rises, heat is able to evenly distribute itself across the room, heating it more quickly and allowing the room to feel cosy without spending a large amount on gas bills.
The second reason for the popularity in underfloor heating is that it can appear a much more modern way of decorating your home.
Rather than worrying about chunky radiators and unsightly gas heaters, you can simply have underfloor heating installed in your floor, so nobody would be any the wiser about how you heed to this room.
It's safe to walk on, to play on and can be friendlier for the children to be around. It is completely controllable via a thermostat, much like traditional heating methods. Underlay will allow the heat flow technology to do its job in a much more reliable and durable fashion.
By choosing underlay from a specialist, you know that you will be investing in quality that is going to last for many years to come. There is no point investing in underfloor heating technology if you're not going to protect the technology and fit it properly the first time round!
Video Transcript for Duralay King: Do I Need Special Underlay for Underfloor Heating
Are you looking to lay carpet over underfloor heating?
Then Duralay King is definitely the choice of underlay for you.
The reason you need this between your carpet and underfloor heating is because it has the lowest tog rating of 0.8.
That means the heat will travel through the underlay and carpet meaning you get the most out of your investment.
And the thickness of 8.3mm means you get great comfort while prolonging the life of both your new heat installation and fresh carpet.
That's not all..
Other qualities that make it the best on the market for underfloor heating include its brilliant bounce back properties.
Yes, the Duralay King has a better density than other products that may have been designed for use with underfloor heating.
Can the Duralay King be used under laminate or wood flooring?
Unfortunately this underlay is too thick to use if you're laying laminate or a wooden floor.
So if you're not having carpet, then you probably want to choose the Duralay Heatflow product. It's  a much thinner option and can also be found on the Underlay4u website.
Here's a quick reminder of the properties of the Duralay King
A thickness of 8.3mm
A very low tog rating of 0.8
A roll size of 11m2 high durability and a good nominal density
Thanks for watching