One of the most asked questions we get at Underlay4U is 'which is better, PU foam or Sponge Rubber underlay?'
There is no easy answer to this and it really depends on quite a few factors. Every home is different, and these materials will work differently to suit various environments.
In this article we will cover what these materials are made of, their differences and similarities and how to decide which is best for you.
Keep reading to find out the three vital questions to ask yourself before purchasing.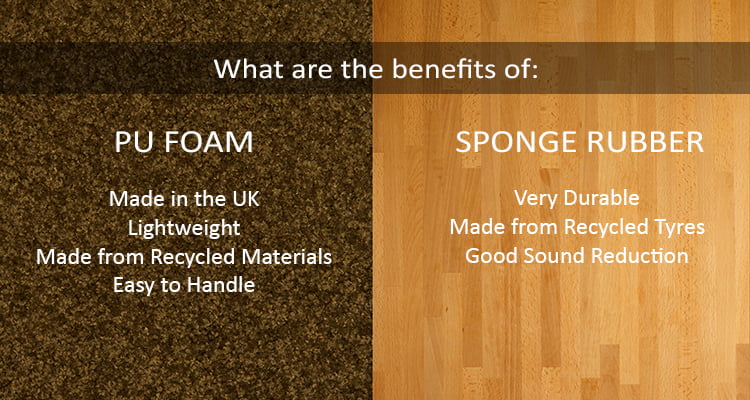 What is PU Foam Underlay and What is it Made of?
PU foam is becoming more and more popular for carpet underlay, and it's not hard to see why. It has so many benefits and is a great option for comfort and durability.
But, what is it made from?
It is made up of recycled materials. Europur tells us that this material is highly diverse and is the leading member of the polymer family.
PU foam can have a solid or open cell structure. When it comes to underlay, it is usually open cell and this is what forms the foam. Depending on the size of the cells depends on the flexibility and durability of the material.
What are the Benefits of PU Foam Underlay?
There are many benefits to this kind of underlay, which makes it one of our most popular choices. Here are the advantages of using this material:
It is a light-weight material.
It is easy to handle and fit in your home or workplace.
It costs less to manufacture which makes it budget-friendly as it is made from recycled materials.
It is made in the UK.
There is a lot of choice for underlay with this material.
It is incredibly durable.
It has a high warmth rating.
It does a good job of reducing sound.
What is Sponge Rubber Underlay and What is it Made of?
This material is rubber that has been manufactured into a sponge like substance. This gives the durability of rubber and the flexibility and ease-of-use of sponge.
The structure of this material is known as an air-filled matrix structure. This is the typical arrangement of holes that you seen in a sponge.
The amount and density of open cells depends on the manufacturing process and foaming agent.
What are the Benefits of Sponge Rubber Underlay?
Here are some benefits of sponge rubber underlay:
It has the best impact noise reduction from our Tredaire Colours Red Underlay. If you want to find out how exactly this reduces sound, you can read our Soundproofing Underlay Guide.
It is incredibly durable.
The density of the underlay is high.
Sponge Rubber vs PU Foam – What are the Differences?
There are some notable differences between these two materials which could influence your decision making. Here are the top differences between the two:
PU foam is becoming increasingly popular and is a more modern material for underlay. The process of making sponge rubber has been around for a lot longer.
PU foam is lightweight and easy to fit in most rooms. Sponge rubber is denser and heavier, which makes it slightly more difficult to fit and handle in certain places, such as the stairs.
One of the biggest differences is the choice of products. There is a lot more choice for PU foam which is a contributing factor to its popularity.
Sponge Rubber or PU Foam – Which Should I Buy?
When deciding which underlay you should choose, answer these three questions:
Where is the underlay going?
What is my budget?
What is the most important factor – comfort, durability or both?
Once you have this clear in your mind, here are our recommendations.
Rooms with Heavy furniture or high foot traffic – Sponge Rubber. This will provide comfort, durability and the best sound reduction. The Tredaire Colours Red is the best product to fill these requirements.
The Stairs – PU foam. The Carpenters Ultrastep 9mm has a high density that is great for high foot traffic. It is easy to handle and fit which is perfect for the stairs.
Underfloor Heating – Sponge Rubber. The low insulation rating and durability makes the Duralay King Underlay the best product for underfloor heating.
Contractor/ High Traffic – PU foam. The Extra Step Heavy Contract Underlay is durable, easy to handle and will do a fantastic job of protecting your carpet.
For Lounge/Bedroom or Areas of Relaxation – PU foam. For an underlay that is incredibly good value, lightweight, durable and super soft, the Carpenter Midas 12mm  is the best product for these requirements.
An all-rounder – PU foam. There are a couple of options to choose from for a fantastic all-rounder. The Carpenter Perfect Living 10mm and the Carpenter Ultimate Living 10mm have a great balance of comfort, durability and ease of use.