2020 – The year of Working From Home
During 2020, we all transitioned from office to home for what seemed like a lifetime. Many have ventured back into the office, most are still working from home, with some switching between the two.
Whichever category you feel like you fit into, it seems as though 2021 will follow suite, with home working becoming more popular and easier for most.
With this in mind, it's important to have a space to work in the comfort of your own home; somewhere away from the home-schooling madness, the kitchen chaos and somewhere away from your bedroom sanctuary.
Whether it be converting your old garden summer house into a garden home office or a small nook in the corner of your home, here at Underlay4U we feel it's important to have one area of your home completely dedicated to work.
In this article on creating a home office, we will cover:
Home Office Ideas
How to create a working from home environment in a small space
Outdoor Offices
How to insulate your indoor Home office
Garden home office insulation
Home Office Ideas
With how often you'll be working from home, having a home office is a common part of many households, and a space which is tailored just to you.
Whether it be a modern, simplistic clean space or a colourful yet cosy nook, it's always good to get some inspiration for your new space.
No matter what type of office style you prefer, it's a good idea to get some key elements in there to make your office functional yet creative.
Another great benefit to incorporating a home office into your house is it adds value when it comes to reselling. Check out some other great ways to add value to your home here.
Office Accessories
Adding accessories can really brighten and liven up even the smallest of office spaces, making it a more inviting place to want to work. Finishing touches such as books resting on a bookshelf, stationary pots and notebooks can turn a plain space into a bright office set up.
A Sturdy Work Desk
A strong, sturdy desk is a must have when working from home, as working from your laptop resting on your back can have negative affects on your posture. Desks are staples of office life, so it might be worth spending a little extra on a desk that provides sturdiness you need, especially if you have a bigger set up with several monitors. There are many cheaper options for a desk that still provide a great working space, and cheaper alternatives are great if you're looking to fill a smaller space or working from home alone.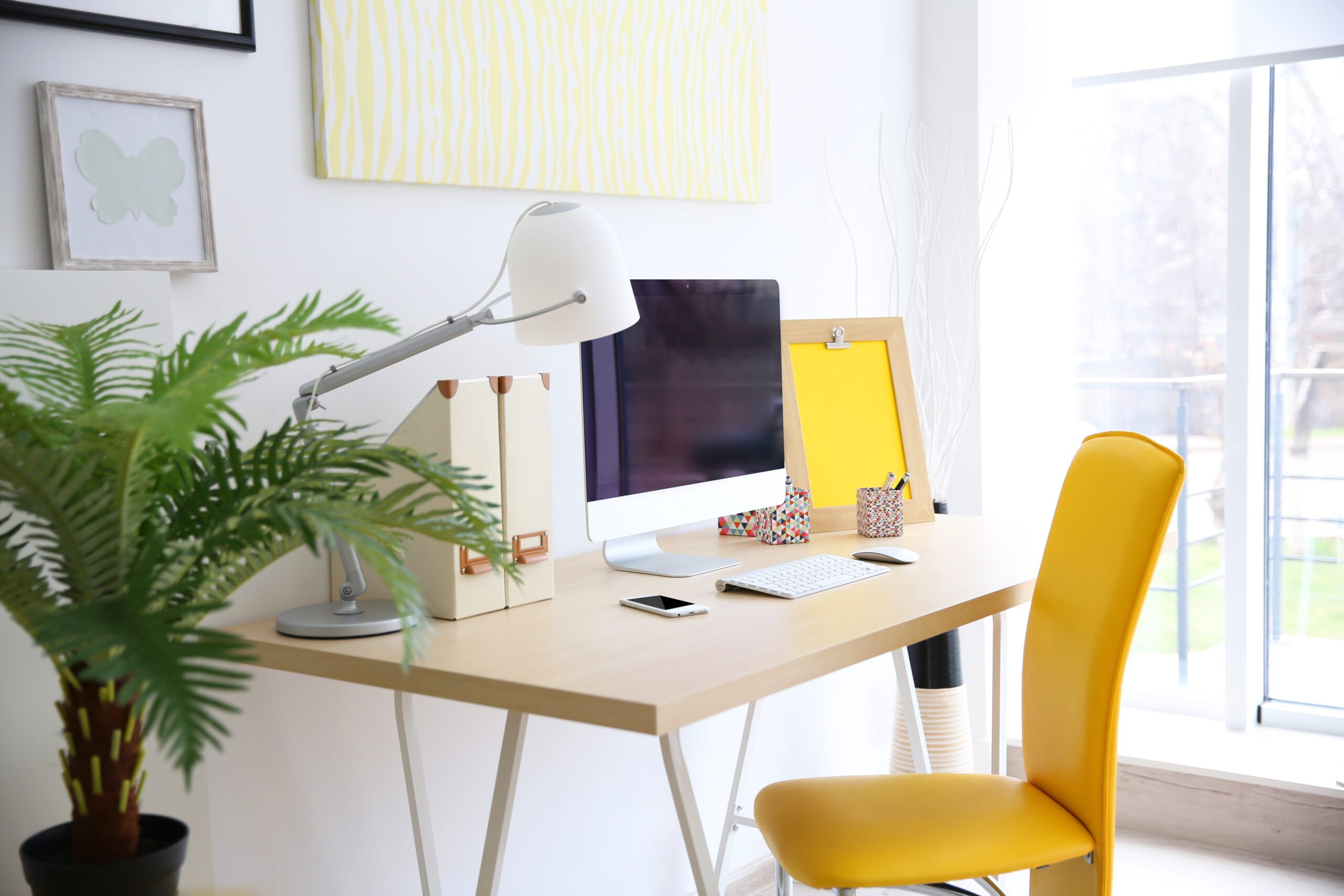 Pop of colour
You'll notice many businesses nowadays incorporate colour in one way or another into their office, as it has a significant impact on their employees. This is definitely something to consider adding into your working from home environment, as the colour of your office can actually have an overall impact on your mood and productivity levels. It can be as simple as adding a small green plant, or as big as a fresh coat of paint.
Office Comfort
Comfort is key when having an office at home. Many of us often substitute the kitchen stool as a desk chair, or simply take to the sofa or the bed. Whilst working from home tucked up in bed sounds like a great idea, its not so great for your posture. Leaning forward even the slightest while working can cause significant back problems overtime, so investing in a good quality desk chair is a great solution to this problem. Decorative cushions can also help with comfort whilst functioning as a great accessory.
Work Storage
Transferring things from office to home many seem like a mammoth task, as things tend to pile up at work and when brought home, it can be a struggle to find storage. A great hack for easy access storage is having your desk lay on top of two sets of draws or having a shelf directly above your workspace to ensure things aren't out of reach. Bespoke home office storage can really tailor the space to you and how you work, while providing a coordinated look.
Plants in the Office
Plants in the office aren't just for decoration, many health benefits are associated with having plants in your workspace. Plants improve air quality by removing pollutants, whilst also stabilize humidity levels. As well, they help reduce stress levels, increase productivity, and boost creativity.
How to create a home office in a small space
Working with a smaller space when it comes to working from home can seem tricky, however savvy space saving design tricks can help turn a small part of your home into a great workspace.
Kitchen Office
If you have one, a kitchen island can be a great place to set up if you only require a small number of items to work, such as a laptop and a notepad. Just make sure you have a chair or stool that provides a good amount of support for your back.
End of dining table
Set up a small section of your dining table to be specifically for working from home. This way you have a great working space if you don't have room for a home office, and a sturdy surface to work from.
Bedroom desk
A great way to combat the issue of space is to utilise your dressing table or current desk in your bedroom. Turn this into a workspace by day with a laptop and stationary setup, and by night it can be back to your regular beauty nook or gaming corner.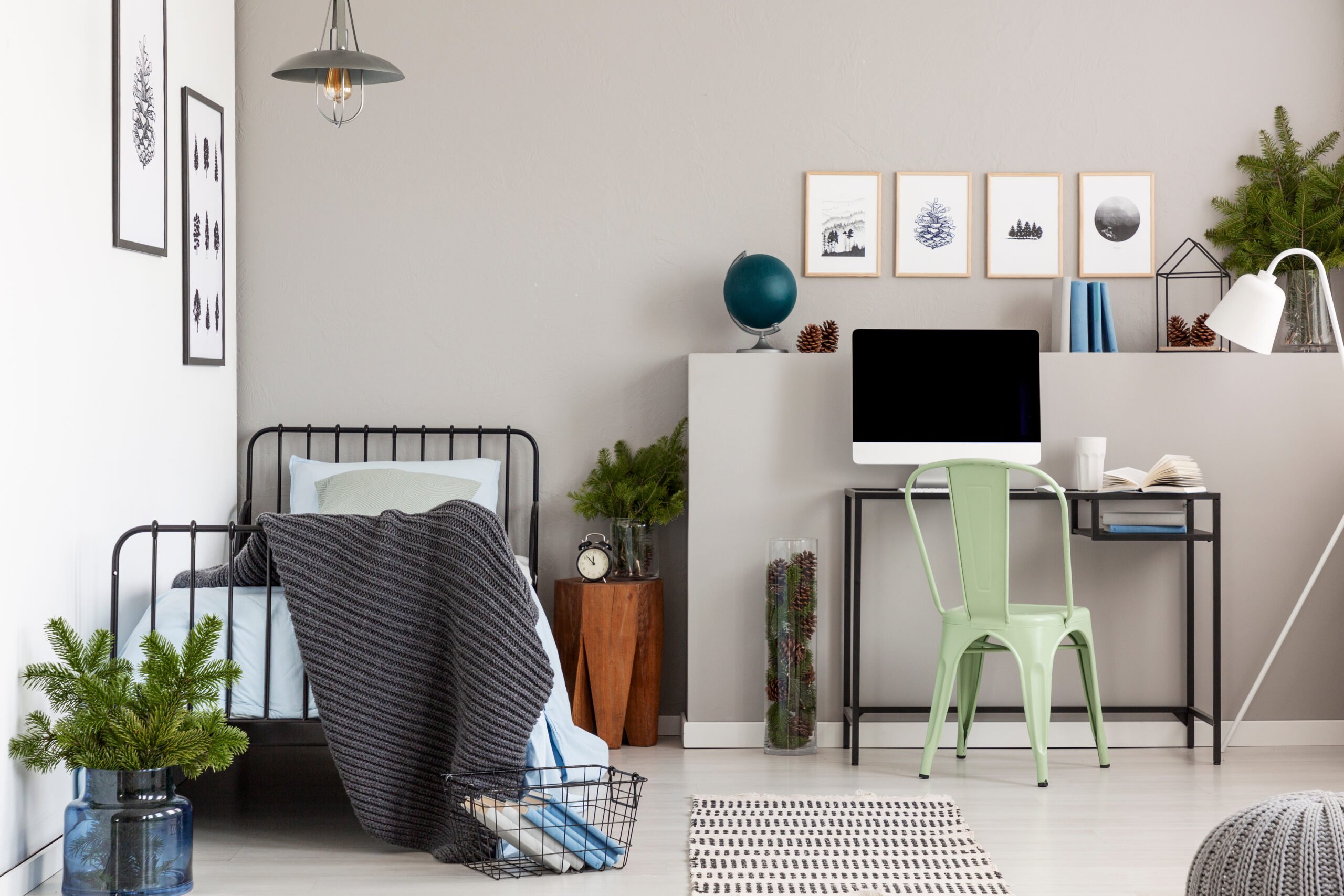 Mount the office desk
Mounting a desk to a wall can be a great space saver if you're struggling for room to work from home. Foldaway desks are also another option, meaning you can still have a great setup to work, however it can be put away once the day is done.
Keep it minimal
This may seem obvious, however while we're working, we can accumulate a lot of things over time. It may be worth having a clear out of old worksheets, notepads, and paper to see if you actually need them, as clogging up a small workspace can cause a more stressful environment.
Outdoor Offices (garden home office)
If you're struggling for space indoors, a great option is to utilise your outdoor space. Turn the old Wendy house into a creative working space or make use of that one space in your garden you're struggling to fill.
There are many benefits working outside brings, including the reduction of stress and increase relaxation levels. Below we've listed a few options that would work for an outdoor office.
Summer house office
Summer houses are great for parties and BBQ's, but whilst those events are off the card at the moment, a great use to ensure your summer house isn't just sitting there is to turn it into a temporary (or permanent!) home office.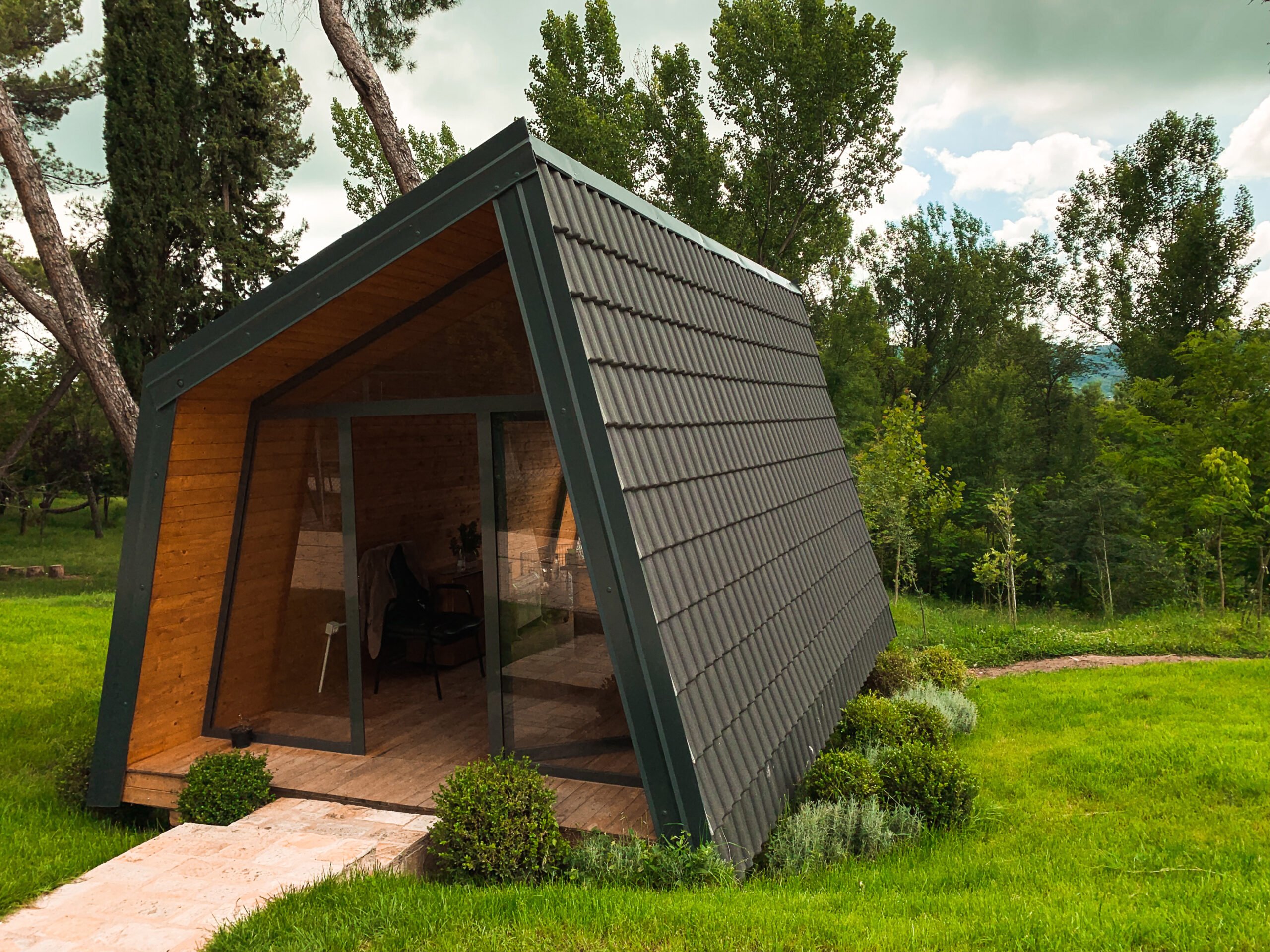 Conservatory Workspace
Although not directly outside, the conservatory is a popular working from home spot, as it provides a lot of natural light and an airy feel to the room. Due to a conservatory seeming like a separate part of the house, it can feel as if you are separating work life from home life which is a benefit to your mental health.
Office pod
Fancy taking on a new project? Building your own office 'pod' in your garden is a great way to truly tailor your work-from-home space to your needs, whilst reaping all the benefits of outdoor working. This can be done by renovating an old shed or building one from scratch.
How to Soundproof and Insulate your home office
Regardless of what job you have, having a soundproof office can help with concentration and muffle out distracting household noises. Whether it be an outdoor or indoor office, insulating and soundproofing your office is always a good idea.
Soundproofing using underlay is best for noise reduction, and our Tredaire Colours Red underlay is the best for the job.
It comes along with many benefits, such as a sponge rubber material that blocks out noise with a thickness of 11.4mm that not only soundproofs but protects your flooring at the same time. With offices consisting of heavy furniture, the high density in this underlay makes it perfect for an office space.
To insulate your office, using Thermal Underlay is the best way to keep the space warm all throughout the year.
Have a read here about the best Soundproof underlay, and shop our best soundproof underlay below.