Open plan living is a great way to reap the true benefits of the space in your home. Whether it be for the purpose of entertaining your guests, family space or simply to add value to your home, it's vital to keep the space insulated.
In this article, we will cover:
Open plan living: what is it and where to start
Pros & Cons
How to keep warm with underlay
Open Plan Living: What is it?
A contemporary concept, open plan living has become a highly sort after interior layout in recent years.
It describes the elimination of walls which separate rooms that are traditionally closed off, creating an open space and essentially one large room with different functions in each section.
A common open area plan is between the kitchen, living room and dining room, creating one large living space.
Open plan living really modernises a home and is becoming an increasingly popular interior structure with UK homes. Not only does it provide functionality, but also adds a decent amount of resale value of your home.
There are many reasons as to why it's so sort after, from being the perfect layout for a busy family or making entertaining a breeze, one thing that is key is to make sure the space is insulated. Having an open plan living space means a lot of warmth that was generated by walls is lost.
Pros & Cons of Open Living: Is it a Good Idea?
Even though the concept of Open Plan living is becoming increasingly popular, and is accompanied by several pros, there are a number of cons that come along with it.
Pros of Creating Open Space in your Home
Brings the Family together
Whether you're busy cooking and want to keep an eye on the children or chatting to your partner whilst watching TV and making dinner, having a large living space in your home allows for the family to be together.
Rooms that usually restrict family life happening together are brought into one with an open plan living room, meaning more quality time can be spent together.
Large Space for Entertaining
Entertaining becomes a breeze when your home is open plan, as more people can gather in the same room. The kitchen, living room and dining space become one large hub perfect for parties, dinner guests or a casual night in with friends.
Adding bi-fold doors from your kitchen that lead to the garden create seamless outdoor parties, perfect for summer.
Brighter, Lighter Living
Open plan conversions allow for a great deal of natural light to enter the space, that would have been restricted by walls that were separating the rooms. The addition of rooflights can contribute to this, with natural light seeping in from above.
Opens Up a Smaller Space
For houses or apartments that are on the smaller side, creating an open plan area within the home can actually make the space visually bigger, and the space can be used more efficiently.
The removal of walls within a smaller home can remove that restricting factor that makes it feel cramped.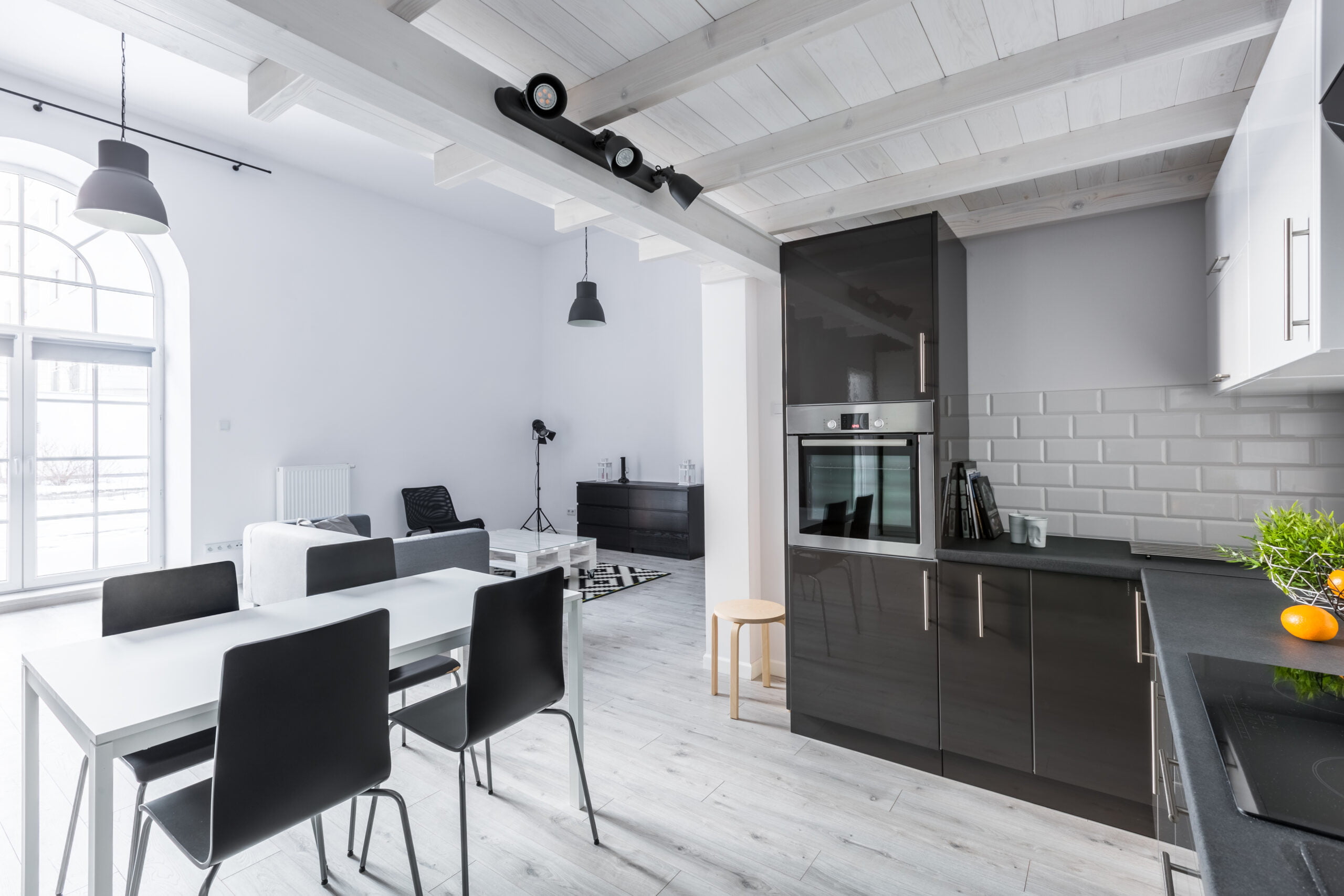 Seamless Communication
Whether you're speaking to your kids from across the room, or continuing to chat to dinner guests whilst cooking, communicating with other household members becomes effortless with an open plan living space.
Adds Value to your Property
If you're thinking about selling your home or currently renovating, consider converting the kitchen/living space into open plan.
It makes the home more visually appealing to buyers and is a great investment if you're planning to sell, alongside a loft conversion. For more ways to add value to your home, click here.
Cons Associated with Open Plan Living
Mess is Visible
Dirty dishes left in the kitchen? Unlike a regular home structure where the cooking mess can be confined to the walls of the kitchen if one area is a mess, it's visible from all areas which can be an annoyance.
Smells Linger into Relaxation Areas
Smells from the kitchen can travel a lot faster into the sofa area, so you'll be smelling last nights dinner for a little longer than expected.
This is something to consider when creating open plan living, as it can be quite a tricky thing to combat.
Noise Travels
Cooking, TV and the children playing all create significant noise, and with this now being all in one space, you should expect the noise levels in your home to rise.
Less Privacy
With everyone now congregating into the same space, it can be quite difficult to achieve that same level of privacy separating walls provide.
It can be the perfect layout for someone living alone or with a close knit-family, however, if you're sharing with a roommate it can lead to privacy issues.
Hard to Keep Warm
With fewer walls providing that extra warmth, the cost of heating your new space will increase. See below for the best way to keep your open plan living space insulated using underlay.
How to Insulate Open Plan Spaces Using Underlay
As stated above, with the removals of walls it can be tricky to keep an open plan living room warm as there are no barriers to keep the heat in.  At Underlay4U, we recommend insulating the room using a thermal underlay.
Thermal underlay carries a low tog, which is specifically designed for the purpose of heating and insulating a space. Poly-foam within thermal underlay products also contributes to thermal conductivity.
Our Quick Therm Underlay is designed with all the above in mind, and can be used with carpet, laminate or wood flooring making it the perfect choice for a living space. It's versatile and lightweight, yet also contributes to sound and noise reduction, which is something to consider if you're in an apartment or converting to open plan upstairs.
Underfloor heating can be a great option to add to your open plan living room, however, some underlay can actually restrict and block underfloor heating. Ensure this doesn't happen by shopping our thermal underlay.
£

9.25 –

£

923.80