Laminate was originally designed as a cheaper alternative to wood but as technology develops, the benefits go beyond price.
As well as looking extremely lifelike, laminate is also very durable, easy to maintain and it's also straightforward to install.
But as laminate has grown in popularity – so has the number of options available. Laminate can mimic almost any type of wood as well as concrete, tiles and even marble. This, along with the practical factors such as thickness, durability and method of installation, can make choosing laminate flooring difficult.
A Guide to Laminate Flooring and Underlay
To help make the decision process a little easier, we've put together this useful guide to laminate flooring that will cover type, style, thickness, colour and finally, underlay.
Types of Laminate Flooring
It's easy to get carried away thinking about how you want the end result to look. But as with anything, it's best to identify the practical factors you need to prioritise first.
The most important factors are thickness, durability and method of installation.

Construction of Laminate Flooring Explained
Both the durability and thickness of laminate flooring can be identified by the construction of the planks.
Most laminates for domestic use are made up of four layers:
Backing layer – A rigid layer that provides stability and protects the planks from moisture and warping
Inner core layer – A high density fibreboard which also forms the tongue and groove edges for locking the planks together. Usually protected with a water-resistant sealer
Photographic image later – A high resolution image of a real hardwood planks, ceramic tiles or almost any other flooring material
Wear layer – A protective, transparent top layer which can be textured to match the printed photographic layer below
How to Choose Laminate Flooring Thickness
The thickness of the planks can range from 6mm to 12mm and this is determined by the thickness of the inner core layer. Whilst the thickness of the planks can affect durability somewhat, it is more important to the aesthetics.
A thicker plank will look and feel more like real hardwood as more detailed designs can be etched in. It will also have better noise dampening capabilities and it will hide subfloor imperfections.
Usually, the thicker the planks the more they cost.

How Durable is Laminate Flooring?
Laminate is widely seen as a durable flooring option. But not all products are suitable for every home or room.
Because the quality and manufacturing of laminate can vary so massively, the Association of European Producers of Laminate Flooring (EPLF) came up with a series of durability and water resistant tests.
This became known as the AC rating and as a result, the quality from manufacturers across the board has dramatically increased.
The AC rating ranges from AC1 – AC5. Your lifestyle and the room that the flooring is going into will decide the AC rating you need to go for:
AC1 – Suitable for low traffic areas such as bedrooms
AC2 – Suitable for low to medium traffic areas such as living room or dining room
AC3 – Suitable most areas in home including stairs, hallways and light commercial settings
AC4 – Suitable for any where in the home and commercial settings
AC5 – Suitable for heavy traffic commercial areas. These types of planks are called High Density Laminate and have a slightly different construction to the one outlined earlier in the post.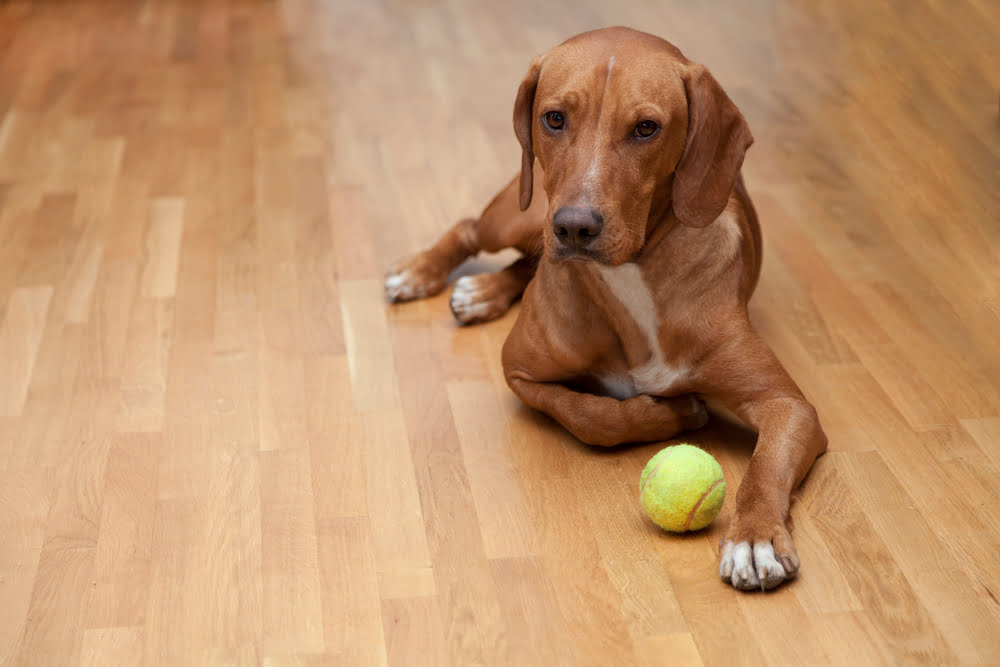 Best Laminate Flooring for the Kitchen
Water is known to damage laminate flooring relatively easily, which is why you may have heard that it's not a great choice for the kitchen.
But actually, many planks are water resistant and as long as water doesn't reach the core, it should be okay.
Therefore, it is possible to lay most types of laminate in the kitchen.
If you want to take an extra precaution, you may be better getting square edge planks rather than bevelled edge so that there's no groove for water to seep into. We talk more about bevelled and straight edge planks later in the post –click here to be taken there.

How to Lay Laminate Flooring
It's true, you don't necessarily need an expert to install your new flooring. With a little bit of DIY expertise, you should be able to fit the floor in less than a day without any problems.
Laminate floorboards form what is called a 'floating floor'. This means that is not glued, nailed or screwed to your subfloor, instead the planks are fixed together and laid over an underlay.
The three main types of planks are:
Glue-less
Glued
Pre-glued
The glue-less planks are by far the most popular as they simply fit together like jigsaw pieces. All you'll need to do is make small cut outs if you have some pipe work or a slanted wall to accommodate.
Click here to read our more detailed guide to laying a glue-less laminate floor.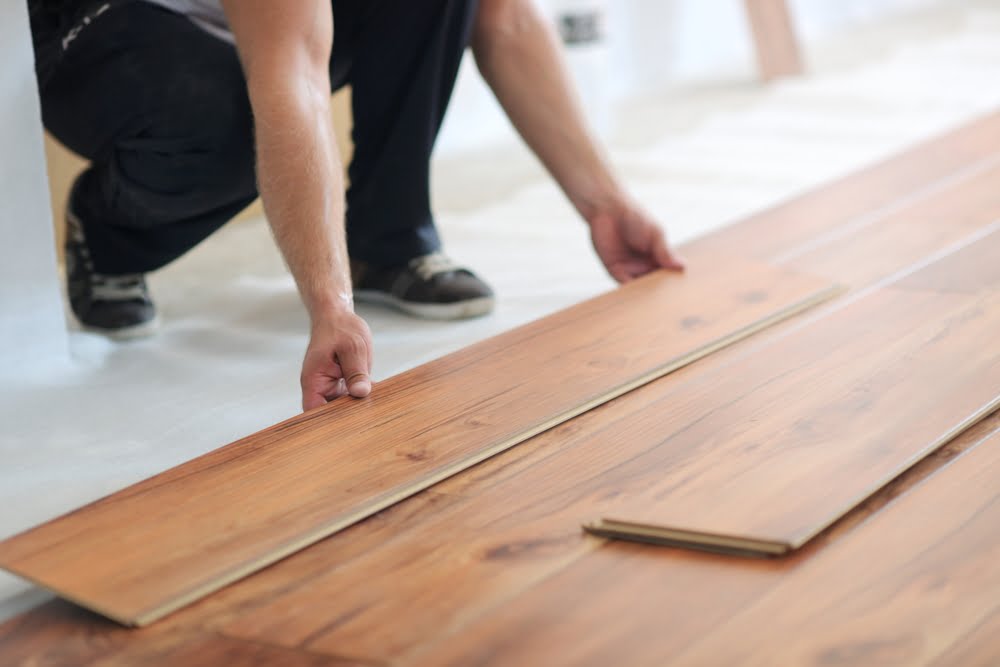 Styles of Laminate Flooring
One of the reasons this type of flooring is so popular is because of how many options there are available. From light oak to mahogany and everything in between, it really is possible to achieve your dream look.

How to Choose the Colour of Laminate Flooring
Most people already have a rough idea of the colour they'd like their new floor to be. But like with paint, a small sample can look totally different once it's in the room.
The safest way to choose a colour is to take samples home and test them out in different areas of the room.
Ask yourself these questions:
Do you like how it looks in natural day light?
Do you like how it looks in the evening, with the lights on?
Do you like how it looks in the darkest corners of the room?
Do you like how it looks when the sun shines on it through the window?
The lights in a showroom can be deceptive so it's important to get a feel of how it will look in your own environment.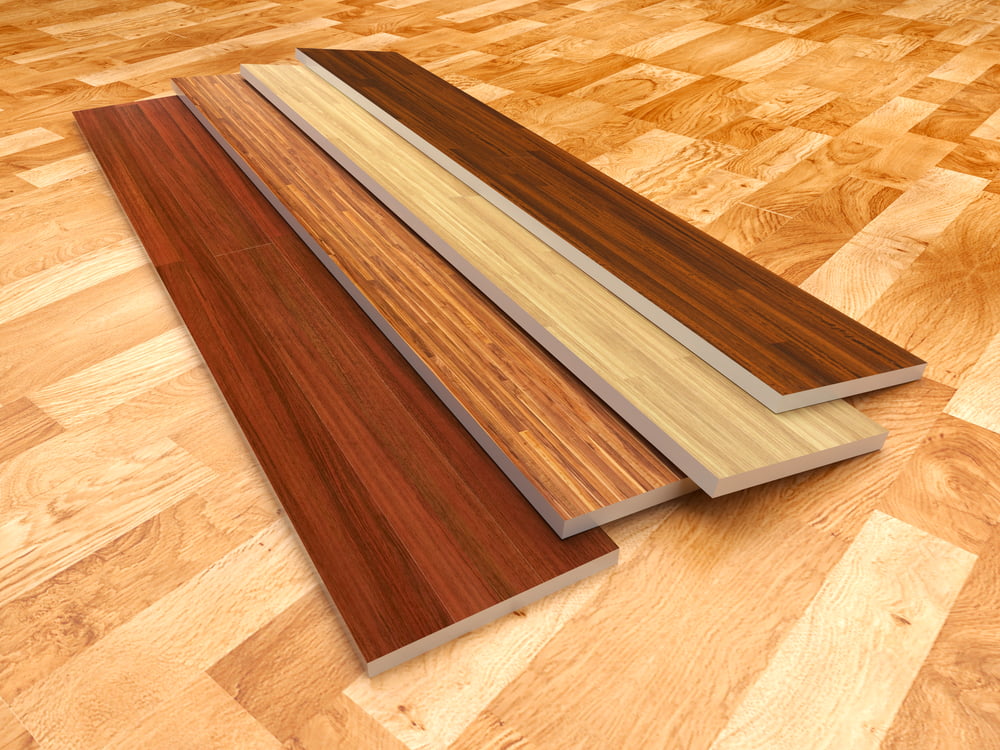 Textured Laminate Flooring
As technology and home interior trends have changed, there's been a huge rise in textured laminate that is designed to look and feel more like real hardwood.
The texture is etched into the transparent top layer in a way that mimics the knots and grain of the photographic image layer below. The results can be astonishingly lifelike which is why they have become so popular.
The textured planks tend to be thicker and more expensive than their polished counterparts.

Plank Style and Edge Type
Depending on the look you want to create, there's three plank styles to choose from:
One strip plank – this is where each plank is designed to look like an individual floorboard. These usually have a bevelled edge which create grooves between the planks for an authentic look.
Two strip plank – This is where each plank is designed to look like two smaller pieces of wood
Three strip plank – Each plank is designed to look like three smaller pieces of wood
The two strip plank and the three strip planks will have square edges – so there is no real groove between the planks. Instead they may be textured to create the illusion of individual pieces of wood.
Generally, larger rooms look better with one strip planks and smaller rooms look better with 2 or 3 strip planks.

Which Underlay to use with Laminate?
Pairing your new laminate flooring with the right kind of underlay is essential if you want to experience the full benefits.
Not only will it help your laminate last longer, it can also help to insulate your home and reduce the sound of footsteps.
Our bestselling laminate flooring underlay is the Super Gold 5mm.  
At 5mm thick, it's the thickest underlay you can use with laminate flooring which means it has the best insulation and sound reduction properties. It also has a built-in damp proof membrane which will protect your laminate from moisture if you have a concrete subfloor.
Best Underlay for Laminate with Underfloor Heating
However, because it is a relatively thick and insulating product it isn't suitable for use with underfloor heating.
If you have underfloor heating we recommend Duralay Heat Flow which features Thermylin™ technology for maximum thermal conductivity.

Or, a more budget-friendly option is our Laminate 3mm Underlay which is also suitable for use with underfloor heating.

Guide to Laying a Laminate Floor:
Measure your room
First things first, measure the area of the room where the new flooring is going to go. We recommend adding 10% to this and use this figure to place your order.
Prepare your subfloor
Your subfloor should be in good condition before laying your new flooring on top of it. The most important thing to do is check that it's level – if it isn't, we recommend sanding the floor beforehand to ensure the best finish.
Choose an underlay for laminate
It is essential that you have the best suited underlay in order to get the most out of your new floor.
We recommend the Super Gold 5mm which has excellent insulation properties, sound reduction properties and a built in damp proof membrane which will protect your new floor from moisture.
The Super Gold 5mm, however, isn't suitable for a floor with underfloor heating. For more about which underlays to use with laminate flooring and underfloor heating, read this blog post.
Acclimatise your flooring
Before laying your boards, they should be kept in the room where they will be installed for at least 48 hours. This is because laminate flooring can expand and contract due to changes in temperature and humidity so it's best to try and stabilise them first.
Measure the width of your room
Measure the width of you room to identify how many floorboards you will need. Make sure to leave a 12mm expansion gap around the edge.
Note: We recommend laying the floorboards in the direction of your longest straight wall so this number will be the number of planks side-by-side across the shortest length of the room.
Lay your first plank
Start in the upper left corner of the longest wall.
Measure the distance from the first plank
From the edge of your first plank, measure to the end of the room. This will give you the length of your second board (remember to minus the 12mm expansion gap).
Start your second run
Use the off-cut from the first run to start the second run. This will ensure staggered joints to increase the strength of the floor and reduce wastage.
Repeat across the room until the final run
It's likely you will have to cut the final board to size. Measure the width of the gap at various points to ensure it fits perfectly.
Finishing Touches
If the expansion gap isn't covered by your skirting boards, cover it with beading.
At the doorway, fit a threshold that's appropriate for the two flooring types. For example, a carpet to laminate option.