Who thought tog rating would be such a significant factor in making your decision when choosing an underlay.
In fact, 90% of our customers buy theirs based on the tog rating alone.
So in this article, we're showing you which are the best underlays for the highest tog, on the market today.
Buying the lowest tog is also an important factor when making your purchase decision. So we'll also show you which are the best for that and explain why.
In this article, we tell you everything about tog rating and why it's important. But first, here's the products that are most relevant to your decision making.
Highest TOG Rated products for insulating warmth…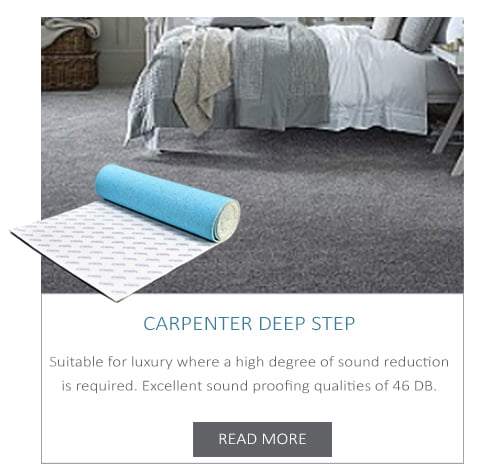 Carpenter Deep Step 11mm is also one of the highest tog underlays on the market at 2.78 Tog. And is available as part of our carpet underlay range.
And now for the lowest TOG Rated products…
So, whats the significance of TOG rating?
Just like putting insulation in the loft, the high tog rating of any carpet underlay will do a great job of keeping the warmth in your home. Ultimately saving on the energy bills.
At the opposite end of the scale, you may have already thought about keeping the warmth in your home using underfloor heating.
In that case, you would want a significantly lower tog rating so that the heat will conduct nicely onto your feet. A high warmth product will mean you don't get the best out of your probably expensive underfloor heating.
In this article, we'll first discuss the highest tog rated products on the market and then the lowest.
So where would you fit underlays with high tog ratings?
The most obvious place would be in the lounge and bedrooms where you want a nice cosy area in the winter.
Many of the insulated products are also slightly thicker so they provide a nice underfoot comfort.
And while most products on the market are suitable for any area of the home, it's not recommended to use thick cushioning on the stairs because of the difficulty in fitting it around the steps.
The most suitable products for lounge and bedroom with high tog ratings are shown here
The Thicker Underlay4u 12mm is our own product and therefore the best buy on our website.
Carpets win every time…
If it's between carpets and laminate flooring as to which offers the most opportunity for warmth, Carpet wins every time.
Why?
Because you're able to use much thicker cushioning under carpets than you can under laminate or solid wood flooring.
That's why many people opt for underfloor heating when fitting laminate or wood in their kitchens.
Don't worry though. There's products for all types of flooring. Not least underfloor heating
Here's the options for laminate
The best from a tog perspective is the Super Gold.
Lowest tog underlay
The lowest tog underlay
Often when buying underlay, you will need to take into consideration what you already have down as a sub floor. The sub floor is usually made of wood or concrete but can also include underfloor heating.
That's when everything changes. When using underfloor heating you need an extremely low tog product so the heat can conduct through the top floor, whether it be carpet or laminate as your top floor choice.
Keeping the heat costs down during the winter
During the winter months, many households see a steep increase in the cost of their heating.  With ever-increasing fuel prices, these increases can pinch the finances of homeowners.
Here are some simple and cost effective tips on how to reduce these costs. Firstly, look at your central heating settings.
18° is the setting which you could aim for, as this is the temperature that most people are comfortable in just a jumper and jeans.  But don't worry if you aren't comfortable at this temperature, just turning it down by a single degree can save you 10% of your heating bill.
And each time you turn it down a degree, it saves you another 10% so you can see how quickly savings can add up!  Also look at the timer on your central heating.  Rather than having it running 24/7 set your timer.
Most people like to get up to a warm house, and get home to a warm house, but there's no point having the heating on if you aren't there in the daytime, for example. Another cause of higher heating costs is draughts.
Locate any potential draughts coming into your home and this will highlight where you could be losing a lot of heat, so get a draught excluder or fix the cause of the draught and you could save a lot of money.
And don't forget that you should only heat what you use.  This is often overlooked, but if you have a spare room or another space which doesn't get much use, then don't heat it unless you need to.
Having a good carpet underlay will further help reduce your costs by helping to retain warmth and improve thermal insulation.
Experts have talked about loft insulation and cavity insulation as being essential to help keep the warmth inside your home, and a good underlay will act as a similar insulation on your floor.  As well as this, good underlay will improve underfoot comfort, extend the life of your carpets, and increase sound insulation, making it a good cost-effective solution.