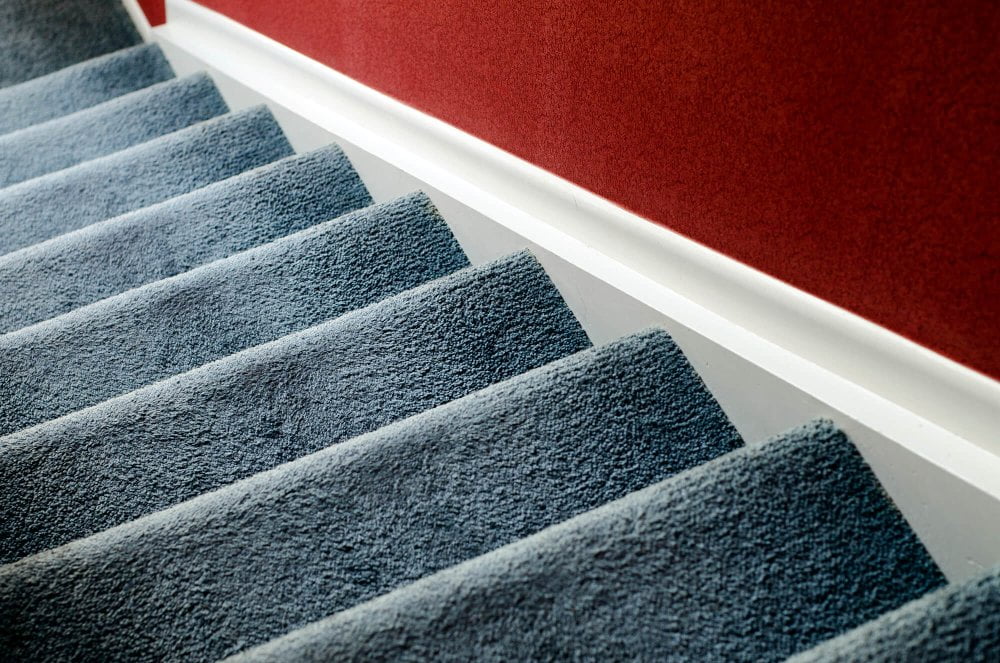 Choosing carpet for the stairs in your home is a tricky task: as well as the normal choices like colour, thickness and design, there are plenty of other factors you'll need to take into consideration.
You may also want to take into account the fitting, read our simple 5-step guide to fitting stairs carpet.
Here are all the things you'll need to think about when making your choice – and some suggestions for the carpet types that work best.
1. Stairs are high traffic areas
In most homes, the stairs – along with hallways – are an area that sees the most traffic. It's not just that they're used regularly: the impact of feet on a staircase is generally heavier than on regular carpeted floors, thanks to gravity when we're descending. For this reason, you'll need to choose carpets of a material that's highly durable and designed to last: the carpet you choose for your bedroom will not last nearly as long on a stairwell. It may also be worth buying extra carpet at the time, to ensure that you can easily replace it in the same style after a period of wear and tear.
2. Stairs require safety considerations
It's remarkably easy to trip or fall on the stairs – especially when taking them at speed. At times like these, a carpeted surface can help to reduce the impact and the risk of injury. Bear in mind, though, that while a thicker carpet may seem like the obvious choice to cushion the blow, a carpet that's too thick can actually be more of a trip hazard.
3. Think about how it will look
When installed on staircases, carpet must be bent to fit the contours of each step. On the whole, this should cause no problems if the carpet is installed correctly: the pile runs in a certain direction, and bearing this in mind when laying should ensure that the backing cannot be seen. Some cheaper carpets, though, offer less coverage, and bending them to fit staircases may affect the way they appear.
Which type of carpet is best?
Carpets that are wool-rich tend to be durable enough to cope with the usage associated with stairwells, and the pile doesn't flatten easily. A more affordable alternative would be those made with polypropylene fibres, but they tend to flatten more easily, so a shorter pile would be required.
Instead, a wool and polypropylene blend may be best suited to your stairs, as it combines the best of both worlds, being easy to clean, durable and generally affordable.
Twist Carpet
These carpets are suitable for all areas within your home including the stairs For exact colour call or fill in the contact sheet with your details and we will send you a sample. Maximum of 2 samples.
carpet twist ranges with 6 choices of colours to go
With introducing the carpet ranges, they have been a complete success with thanks to the customers whom purchased them.
Heather Twist
A hard wearing carpet with a tight compact pile. At a fantastic value and available in 5 fantastic colours, Peat (88), Mink (72) , Barley (68), Oatmeal (64) and Stone (79). This carpet will meet your needs and budget, offers outstanding value and savings of over 40% from the high street retailers.
Manufactured from 100% polypropylene, stain safe fibres making this carpet stain safe and bleach cleanable and resistant to sunlight fading.
Clifton Pain Twist
A hard Wearing carpet is a hessian backed carpet and can be used anywhere in the home.
6 great colours are Mouse (22), Cream (25),Truffle (28),Fawn (26),Corn (23), Bark(27) offer outstanding value for money.
Manufactured from 100% polypropylene, stain safe fibres making this carpet stain safe and bleach cleanable and resistant to sunlight fading.
Two Tone Saxony is a thick Saxony hessian backed carpet comes in 6 fantastic colours, White (61), Sable (78), Black Night (95), Butter (62), Sand (25), Pebble Dash (65), this carpet has an excellent underfoot feel to it and the price is not to be sniffed at.
Manufactured from 100% polypropylene, stain safe fibres making this carpet stain safe and bleach cleanable and resistant to sunlight fading.
Wool Twist
A heavy domestic pile is hessian backed and is made from 80% wool and 20% polypropylene.
This excellent carpet comes in 6 lovely colours, Cardomon (73), Poppy Seed(80), White Pepper(65), Carraway (70), Anise (72), Horse Radish (63). The price is £9.49+VAT per Sq.m, this a bargain of the year!
Why Choosing Carpet for your bedroom is important
When choosing the décor for your bedroom you need to carefully consider the flooring you wish to have as this will have a big impact on the comfort and style of your space.
Wooden floors can provide a striking vintage look to a room and are easy to clean however you should consider that wooden floorboards can be slippery and cool underfoot, especially during the winter months when the temperatures drop.
Furthermore they can be an unforgiving surface to walk on, and most people would at least require a rug next to the bed to nestle their feet into when they get out of bed.
Carpets are the perfect solution for bedroom flooring as they provide that added touch of comfort and luxury underfoot, ensuring that your bedroom space is warm, inviting and most importantly relaxing.
Carpets come in a wide range of colours, fibres, prints and patterns so you are sure to find one to compliment your chosen colour scheme.
Alternatively you may wish to select a striking bold print carpet and make a real style feature out of your bedroom flooring.
For added comfort and protection, installing good quality underlay underneath your chosen carpet really is a must.
Thicker 12mm Underlay will provide superb cushioning underneath your carpet that will give you that indulgent feeling of softness underfoot, especially felt when walking around barefoot. Carpets also give you immediate warmth and comfort when getting out of bed, particularly during the night.
Underlay acts as a fabulous insulating layer underneath your carpet that will retain heat between the carpet and the floorboards, providing that much needed warmth underfoot. Furthermore, underlay will insulate noise pollution and will help absorb noise of television sets, radios and walking from room to room.
This is especially important in upstairs bedrooms to promote a peaceful relaxing atmosphere while other family members are downstairs. In addition to this, Underlay plays a vital role in preserving the age and condition of your bedroom carpet. By adding underlay underneath your carpet you will help ensure that your chosen flooring will continue to look and feel fabulous for decades to come.
Choosing the perfect style for your hallway
When it comes to halls, it can be difficult to find inspiration. When you are decorating your hallway, you want to create a homely and welcoming feel, which is also practical. Let's not forget that this is probably one of the most used areas in the house, although we may not think it straightaway.
This is where everybody comes in and out of the house, and for that reason you need to have the right style which accommodates the footfall but without compromising on style and fashion.
The best way to paint your hallway is in a neutral tone that gives a bright and airy feeling to the house. Some new build hallways are very small, so painting it in white or magnolia will allow you to give the illusion of a bigger space. If you have a large hallway, painting it bright can also help you to create a welcoming space. You should make sure that you have a section for coats and shoes.
This is where the practical element of the hallway comes into play. Make sure that you have this section, otherwise your hallway could appear messy and cluttered if you don't have a dedicated area for coats and shoes. When it comes to the flooring, laminate and wood are going to fit well into this hallway area. Laminate and wood are both great ways to showcase a modern style but which also looks traditional and elegant.
This particular flooring style will go with most interior design choices and laminate and wood are both great options for cleaning and everyday reliability. When fitting your laminate or wood flooring, it is important to choose the right underlay. This will help extend the life of your laminate flooring and will also assist with insulating your home. There are many options available in the underlay4u sale.
You can make huge savings in this sale on different underlay's including heat flow technology laminate underlay, Boardwalk laminate underlay, thermal laminate underlay and underlay with built in DPM.
The Majestic 42oz Carpet
Twist Pile
Majestic twist pile carpet is made from yarn that has been tightly twisted and set to form a pile with a slightly textured surface. Twist piles are produced in both plain and heather colours (Heathers are created using a combination of complementary coloured fibres to obtain a tonal effect).
Thanks to its unique environment Britain produces some of the best carpet wool in the world. The harsh conditions survived by Britain's sheep make it ideal carpet wool to withstand the rigours of day to day living.
British Wool has more resilience than most other carpet wools because of the high degree of 'natural crimp' in the fibre, which helps it withstand heavy pressure and footfall, maintaining the appearance of the carpet over longer periods.
British Wool is a truly 'Green' fibre – grown every year by sheep throughout fields and moorlands in the UK – it is an annually renewable natural resource, without harm to the planet.
It has natural insulating properties, which reduce heat loss, condensation and reduce noise, providing improved air quality and a comfortable home environment.
It is naturally flame resistant and produces less toxic fumes than most other household materials, making it a safer product in areas of public usage and throughout the home. Carpet using British Wool is easily maintained, has an inbuilt resistance to soiling due to its natural oils and responds well to cleaning. Maintenance The key to good carpet maintenance is to avoid particles of loose dirt and dust from working their way into the carpet pile where they will act abrasively on the fibres and discolour the carpet.
• Vacuum your new carpet regularly at least two or three times a week.
• A large, strong doormat will reduce dirt from outside being spread around the house.
• Avoid where possible laying light coloured carpets next to external entrances.
• Loop pile carpets should be vacuumed with a cylinder cleaner using the suction head only.
• Cut pile carpets should be vacuumed with an upright cleaner with beater bar and brush. Man-made fibre carpets and wool twist pile carpets should be vacuumed regularly as soon as they are laid to pick up any isolated particles.
Cleaning
Follow these general rules below for dealing with spillages. For more persistent or unusual stains contact a professional carpet cleaner.
• Spillages are more easily removed if tackled immediately so act promptly and blot off all the liquid stain with dry kitchen roll or a clean dry white cloth. Semi solid substances should be removed with a plastic spatula.
• To clean off any remaining stain use a clean damp cloth soaked in warm water to blot the stain. Use a dabbing action with the cloth and then blot out the remaining liquid with dry kitchen towel.
• Do not rub the pile surface of your carpet or over soak the stain.
• Always work from the outside of the stain inwards to minimise the stain spreading.
Two Tone Saxony Carpets
Quality Deep Pile carpets are becoming very popular, add not just style to your home but also add sheer luxury to your home with one of our deep pile carpets.
Contemporary styled Saxony carpet is multi-toned with subtle but very elegant textures.
From our home carpet line, enjoy the beautiful textured Saxony, with soothing earth toned patterns. When people use "Saxony carpet" to refer to a type of carpet, they mean a type of carpet with a cut loop pile.
This means that the carpet is woven in loops, and then the loops are sheared off, creating a carpet with a tufted, even surface.
Saxony carpet is typically woven very densely, and it has a very soft, plush feel. Noble Saxony is a heavy domestic Saxony pile carpet made from 100% Polypropylene B-Tron stain resistant carpet and comes with 'actionbac' backing.
This is simply one of the best value carpets on the market, very durable and excellent under foot, stain safe fibres making this carpet stain safe and bleach cleanable and resistant to sunlight fading, available in 7 New stylish shades, Cream (660), Fawn (800), Sand (640), Black Night (980), Peat (840), Grey (940), Butter (690), and comes in 4 metre wide.
This much loved popular carpet is ideal for any room. With easy clean technology and comfort feel, this 1.8cm thick carpet will stay thicker for longer.
Often used in living rooms or bedrooms, the Saxony carpet has a dense, cut pile and is made with longer tufts than the other styles of carpet, it is plush, luxurious and extra soft, made by the cut loop pile method.
These carpets are specially designed for extra softness.
Available in different patterns and numerous textures, this carpet is woven very fine, which makes it quite dense. This accounts for its extra softness and smoothness. The price is also fantastic.