Are you planning on completing an apartment renovation?  The topic of renovation is discussed less when referring to apartments or small spaces.
In comparison to houses, it may seem a challenging project to take on.
However, renovating an apartment comes with an abundance of benefits and adds value to your property.
The tricky part is where to begin. Well, having a well-constructed plan in place can streamline the process, and significantly increase the success of your refurbishment.  So, it's best to get the ideas rolling.
And we're here to help with that. From new flooring to increasing storage, let's explore ingenious ways to renovate your apartment.
In this article, we will run through:
– What Underlay is best for your apartment?
– How to increase apartment storage
What to Consider When Renovating your Apartment
Begin smart; rushing into a renovation project will have negative side effects. Carefully consider what will be affected before you begin. It might be worth checking through the 4 things (at least) we've listed below before you start.
Neighbours
Assess what you may want to have done in your flat and if this will cause significant noise disruption. While this is your home, be considerate of who is next door and how this may affect them. Construction noise can impact those around you, so ensure you discuss your plans with your neighbours below, above and on your floor and transparently tell them the plans.
Landlord & Planning Permission
If renting, you most definitely need to consult with your Landlord regarding your refurbishment arrangements. After all, it is their building so they will have the final say! If you live in a space where you can build on, check if you need planning permission to save yourself from entering a planning breach.
Confer with Experts
When it comes to intricate areas of the renovation, Fresh Renovations recommends consulting with a professional. Attempting to take on any troublesome wire changes or knocking down walls yourself can be more hassle than it's worth and will cost you more money in the long run.
Installing New Flooring in Your Apartment

The idea of installing new flooring can seem pretty daunting, especially in an apartment. New flooring is a great way to transform the look and feel of your small space pretty dramatically. The question is will it be the addition of cosy carpet or sleek and shiny laminate? To make it easier, let's outline the difference between the two.
Installing Carpet
Installing fresh carpet is an easy way to refurbish your apartment. Choosing what carpet to install can be tricky, but that's where Property Division's carpet guide comes in handy.
Carpet is apartment friendly. It creates that cushioning between you and the flat below. This reduces noise disruptions, yet underlay is recommended when installing any type of flooring.
For small spaces, carpet remnants can be highly beneficial. Perfect for smaller areas, they give you the ability to use high-quality carpets in your home for less. Due to the minimal room in some apartments, carpet remnants and roll ends are essentially full carpets.
Laminate Flooring Installation
As you can guess, laminate isn't every flat owner first flooring choice.
Laminate flooring influences the way noise is carried throughout your home; the sound of dragging of furniture, footsteps and items dropping become significantly louder on a hard surface.
However, if you are looking to install laminate flooring, there is a solution.
Utilising underlay can help with this problem. It acts as a separate layer between floor and ceiling, reducing the impact of day to day life by muffling sound. Meaning a decrease in noise level for your neighbours.
Laminate is a modern choice for many homeowners. Due to its contemporary appeal and how easy it is to clean, it's a sort after flooring to upgrade the look of your space.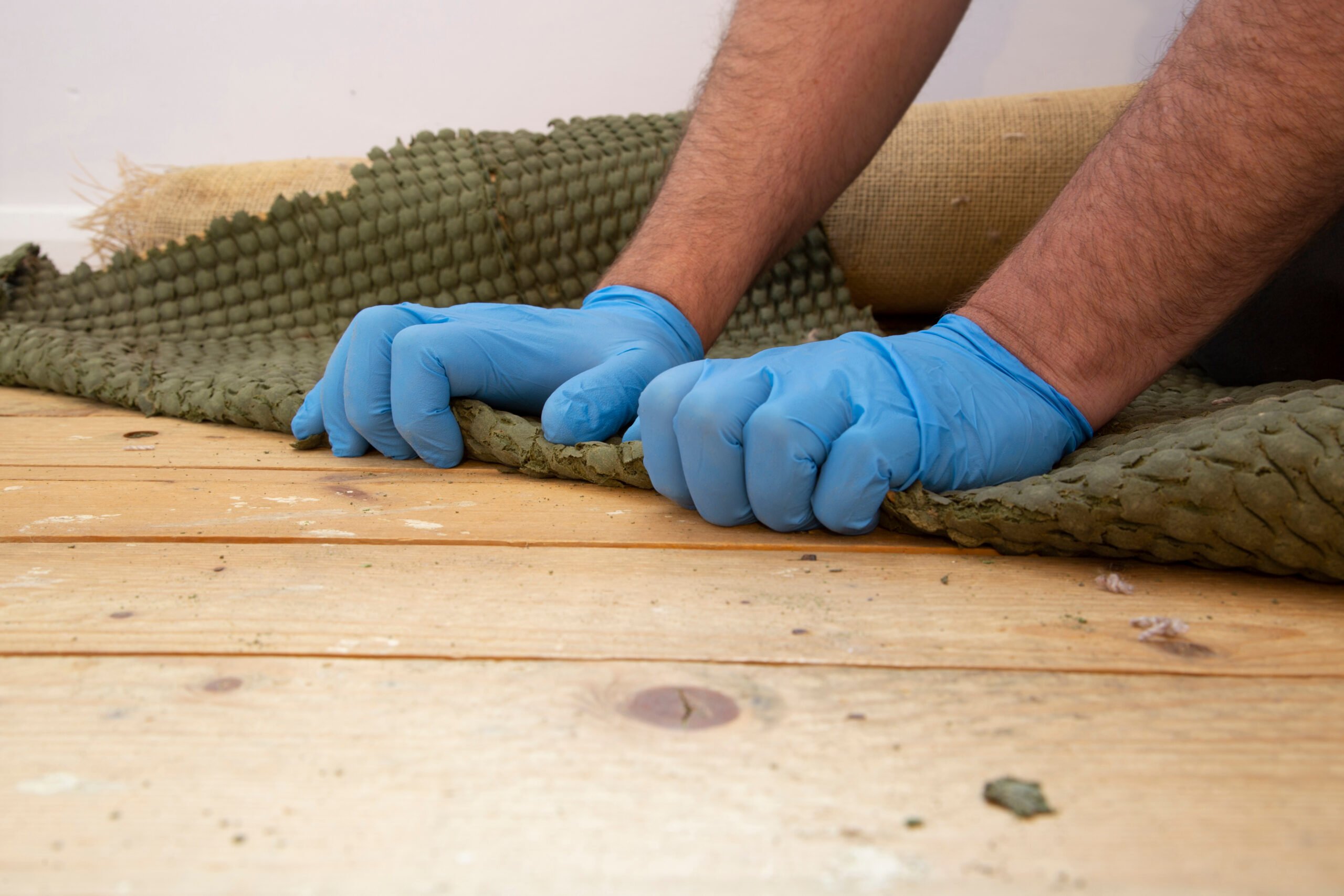 What Underlay Should I Use?

Due to the heavy foot traffic in an apartment, we recommend an acoustic underlay, such as our Tredaire Colours Red. Alternatively, you can use our underlay decision tool below to help.
Download our FREE Underlay decision tool
Be sure to choose which underlay is best for your needs.

Find the right underlay product based on floor type, warmth rating, soundproofing or thickness.

See which products are best for which room or stairs
Increasing Storage

Storage in a small apartment can be a tricky obstacle to overcome. A bit of out-the-box thinking is often required to generate extra storage room, and below are some sample ideas that can help.
Be Savvy with Shelving
Don't let that wall space go to waste! Installing shelves along the perimeter of your walls can create additional room for books, kitchen utensils, shoes and more. Essentially, you can store your 'messy' pieces up high to create less clutter.
Floating Furniture
Having your pieces off the floor or wall can allow for additional storage space underneath them. For example, a floating bed is perfect if you have extra shoes, or a floating desk can reduce the cramped feeling.
Vertical Spaces
Don't underestimate the benefits of storing things vertically. This is exactly what we meant when we said thinking outside the box! Create extra room by inserting storage devices onto doors, up walls or even up the stairs.
Open Plan Apartments

The introduction of "Open-Plan" as a concept has granted homeowners a new possibility to refurbish their home. It's a popular structure within apartments, as it uses a small space to its full potential. We've previously explored the pros and cons of open plan living, so have a read before you consider this concept. Ensure you have permission from your landlord before you begin.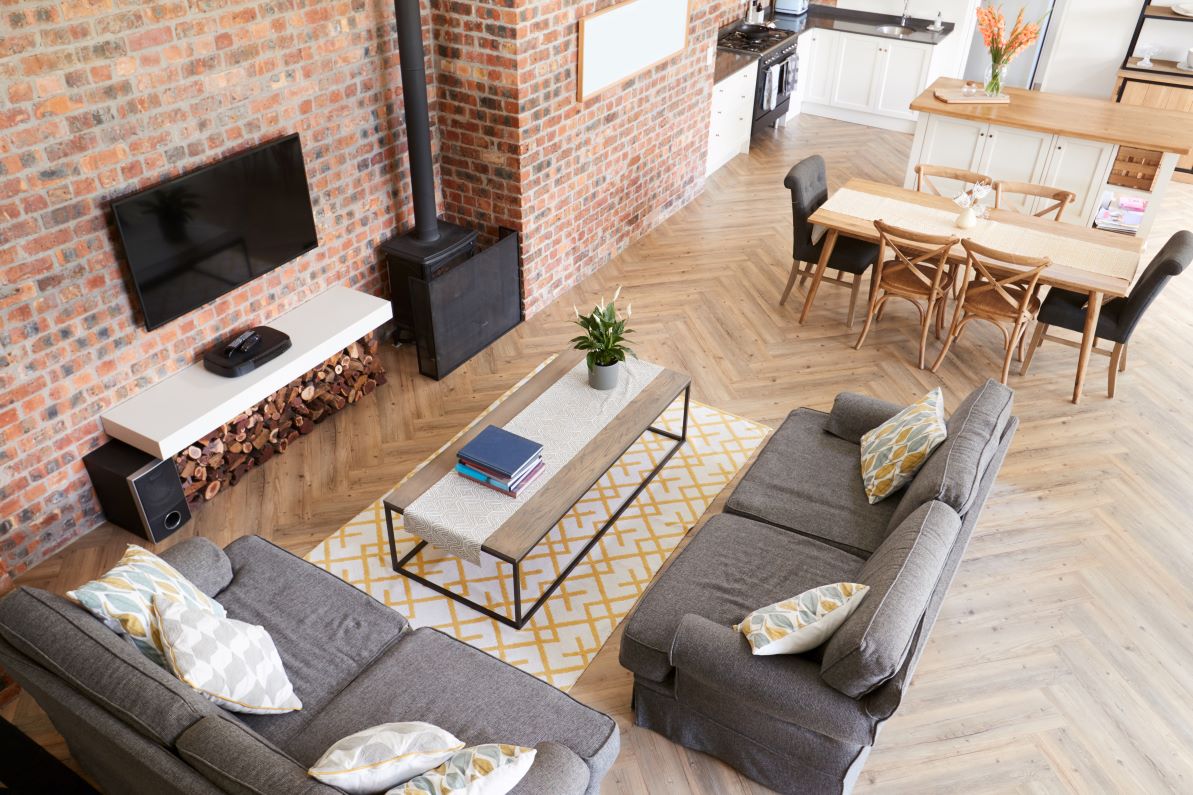 Open Plan Kitchen/Diner
A popular open plan layout is most certainly the kitchen/diner. Bringing together the two most common places in a home, an open plan kitchen/diner creates additional space in your apartment. As more light is allowed in and less room for obstructions, you can see why this is the most favoured option in flats.
Partition Walls
If an open plan structure is too much for you, try including partition walls. They bring back that sense of privacy whilst still making the flat feel bigger and more spacious. Additionally, partition walls can be retracted at any time if you did want to be fully open.
Open Plan Bedroom/Closet/Bathroom
A unique idea is to combine your bedroom and closet space. This concept is on the rise, and while not the most sought after design, it will add originality to your apartment. While not to everyone's taste, it is both stylish and practical.
Taking on a renovation project is a daunting yet exciting time, and hopefully, our ideas have helped ease the process. Looking for further renovation tips? Read our article on improvements that add value to your property.