With the summer months approaching, get the hat and shorts on, and get the garden tools at the ready. Yep, that's right, it's that time already, time to prepare your garden for summer.
There are a vast number of ways you can bring your garden to life for summer; it can be tricky to know where to begin.
Not to worry, in this article we're going to share with you five things you can do in your garden to ensure it's ready for that summer sun. From DIY garden tasks to creating summer garden houses, let's dive in.
Refurbishing your Garden Wood Furniture
Clean and Restore Old Wood Furniture
Depending on the type, wood furniture can vary in how long it takes to tarnish. If it's softwood, your best bet is to begin reviving it in the spring.
Start by lightly sanding it down, then apply a wood stain and you're set for summer. Teak wood can withstand tougher weather conditions, so it shouldn't need much work after being untouched during the winter months.
If it does, however, use light sandpaper to avoid catching the wood grain, then dust with a soft bristle brush.
To protect teak wood, use a preserver developed specifically for teak surfaces.
Paint Bright Colours
Now you've revived your wood furniture, it's time for a lick of paint.
Begin by painting one piece at a time, so you can see how things look and if you actually like it. Having a standout statement piece is always an option too, such as the table; it can bring the whole garden together.
This look isn't for everyone, but it can bring the essence of summer into your garden.
Add Blankets, Cushions
Blankets on benches and cushions on chairs – the perfect finishing touches! Add a thin blanket throw to your furniture, and you're all set for when it gets a touch chillier on those summer nights.
Just sit back, relax, and wrap up in a cosy throw. Sitting on wood can become uncomfortable, so adding cushions can provide that comfort you crave.
Decorative personalisation also adds that extra pizazz so here's how to make your own Easy DIY Cushions.
Prepare your lawn for the growing season
Feed your lawn
After a harsh Winter, your lawn may have started to look a bit drab. Moss may have taken over and it now feels like a sponge to walk on. Not to worry, you can give your lawn a helping hand by applying a Spring & Summer lawn feed.
https://www.relentlessgardener.co.uk is a website which sells UK lawn products for any size garden, both organic and non-organic.
Remove the weeds & moss
If moss has taken over, then you may need to get rid of the moss first by applying a moss killer or a weed and feed before applying a feed.
That way you can give any new grass coming through a helping hand so that it's not fighting with other weeds.
The main thing to remember that by starting your lawn care programme early in the year, you will be much more likely to have it looking spic and span by the time you reach the Summer. The time when you will want t play on it the most.
Build A Summer Garden House
Summer Garden House Ideas
Ah, the garden's dream. Summer houses are one of the most sought-after garden additions and the perfect way to prepare your outdoor space for summer.
Both visually appealing and practical, garden summer houses have tonnes of functions. Let's run through a couple of ways you could use yours.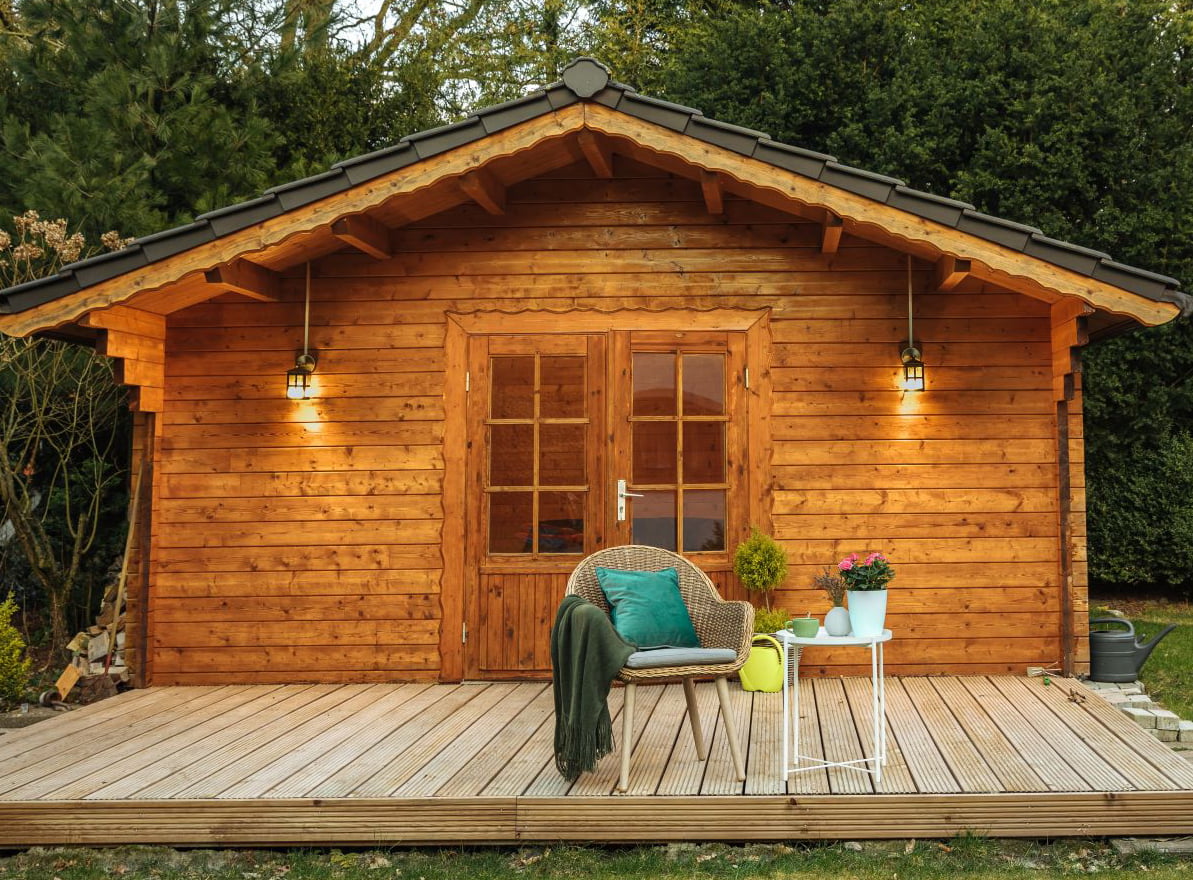 Home Office
Since we've all been accustomed to working from home over the past year, this is the perfect use of a summer house. It's the optimal way to separate work life and home life, whilst also skipping out on the commute.
Snug
Kick back and get cosy. A garden outhouse is the ideal cosy hideout for summer nights. Whether you're looking to get out of the brisk wind as dusk approaches, or the kids want a private space for themselves and friends. It's the perfect addition to your garden for summer.
Gym
Have you always wanted an at-home gym? Why not build it in your garden? Exercising outdoors has an array of health benefits, especially during summer, and converting your garden room into a gym gets you a step closer to being one with nature.
Insulating the House
Summer garden parties can get a little loud, so soundproofing with underlay is best for decreasing commotion noise.
Our Tredaire Colors Red underlay is excellent at reducing noise. With an 11.4mm thickness, it soundproofs and secures any furniture you may have in there. Oh, and keeps the neighbours happy!
To make your garden house usable all year round, insulate with Thermal Underlay. It's the ideal way to retain heat during winter and regulate the temperature during summer. You can shop our thermal underlay below.
Tidy Up the Patio
Remove Moss
Moss can affect the overall look of your patio, making it appear darker than reality.
Over winter, moss grows at an increased rate in comparison to the warmer months. It thrives in cool, wet weather, so it's important to remove it in time for summer.
To remove, Patio Comfy recommends the simple hack of spraying the affected area with vinegar, to safely remove the unwanted weed. It can take a few days to disappear.
Jetwash the paving stones
Grime and dirt can build up during winter, so to prepare your patio for summer, it's time to whip out the jet washer.
Pressure washers remove the effort of scrubbing and elbow grease and can have the job done in a matter of minutes in comparison. The power a jet washer provides can make your patio look brand new!
Add Potted Plants
Is your patio still looking a little plain? Potted plants will do the trick nicely. The addition of potted plants to any garden patio can bring it to life, and truly add an essence of spring and summer.
Best yet, you can personalise the pots, which can be a great garden DIY idea the whole family can participate in.
Download our FREE Underlay decision tool
Be sure to choose which underlay is best for your needs.
Find the right underlay product based on floor type, warmth rating, soundproofing or thickness.
See which products are best for which room or stairs
Install Outdoor Lighting
Patio Lighting (pave the way)
Pave the way (excuse the pun…) with patio lighting. It's not only decorative, but functional when walking in at night, or ensuring guests don't tread on your lovely flower beds.
Perfect for safety during late-night garden parties, while having an aesthetic impact on your garden as well.
Decking Spotlights
Decking spotlights truly elevate your deck and adds a level of dimension to your garden.
For safety purposes, installing spotlights to your decking will ensure that no one has a nasty accident if they misplace their footing, as all step ways are visible.
DIY Paper Lanterns
Add a touch of magic to your outdoor scenery with lantern lights.
Another great garden DIYer, paper lanterns are a unique touch to any garden. They're easy to make and are a brilliant decorative party piece that will have your guests in awe.
Outdoor Bar & Kitchen
What's better than a few drinks in the garden? Being the bartender yourself! Call over family and friends and be ready to entertain – alfresco style!
Whether you bring the pub to your garden or want to enjoy a few beverages in the sun, creating your own DIY bar ensures your garden is summer-ready.
If space is an issue, garden shelves can provide great storage space for drinks. If not, go hard or go home! Themed bars are a fun option if you're having a summer party.
These are just a few brilliant ideas on how to prepare your garden for the upcoming summer months. With the easing of lockdown beginning, it looks like a great summer is on the cards. Want to know how to create the perfect home office? Click here.