This article gives a clear, balanced and comprehensive review of a variety of popular Tredaire products. The Tredaire brand is one of the most versatile, high quality and recognisable laminate & carpet underlay ranges available, and is manufactured by Interfloor in the UK.
Interfloor products are used in homes, hotels, businesses, restaurants and other buildings all around the world. The materials used are environmentally-friendly, with plenty of treated and recycled materials being used.

Here at U4U we stock a range of the most popular Tredaire products, with something for every part of the house. In this article we review the key specifications and measurements that you need to take into account when choosing underlay, and then take a closer look at each of the different Tredaire products.
The Most Purchased Tredaire Product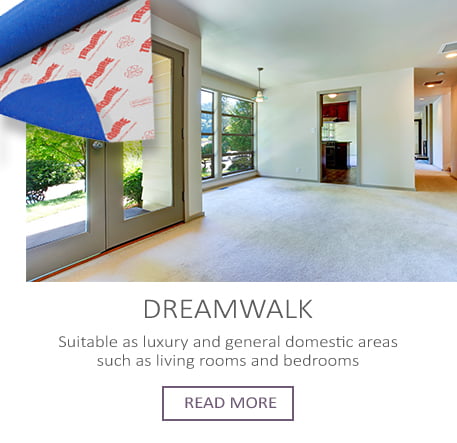 Important Tredaire Specifications
There are a handful of important specifications and measurements to consider when selecting which Tredaire product will be best suited to your rooms. These are:
The thickness and density
Tog rating or thermal performance
The level of sound insulation (db rating)
It is important to keep all of these in mind when choosing the best option for each individual room.
Choosing the Right Roll Size, Thickness and Density
The Best Tredaire Roll Size
Tredaire underlay is mainly provided in roll sizes of 15 square metres, with a few options such as Colours Red being provided in 11 square metre rolls. The 15 square metre is a great size for most rooms and is easy to carry and store. However, some suppliers (like us here at Underlay4U) can provide half or quarter rolls of some products if needed (please contact us for more information).
The Best Tredaire Underlay Density
The density of your chosen underlay will depend on the room in which it is used, the quality of carpet or laminate floor beneath which it will be placed, and the thickness. Denser products perform better in areas of high traffic (landings, stairways and halls for example) as they respond better than less dense products under impact.
The Best Tredaire Underlay Thickness
Knowing the thickness will help you make the best choice for your room. In general, rooms in which underfoot comfort is important, such as bedrooms and lounges, will need a thicker one whereas rooms with a tricky surface (stairs for example) need something slightly thinner that fits the contours of the room.
Where to Find the Best Price for Tredaire Underlays
Suppliers such as ourselves are often able to provide the most competitive prices for Tredaire products. We buy in bulk and are often able to secure market-leading prices direct from the manufacturer, as well as providing free delivery (for qualifying orders), customer service and after-sales support.
Take a look at our product range today to see if we have the right option for you, whether you are looking for deals on cheap Tredaire Dreamwalk or need a high-performing product for comfortable stairs such as Tredaire Softwalk.
Reviews of Tredaire Underlay Products from Interfloor
Tredaire Dreamwalk – Luxurious Comfort and Easy to Use
The Dreamwalk model is arguably the most widely known Tredaire underlay. This thick and comfortable material offers some of the highest performance in terms of warmth, compression recovery and noise suppression.
With a thickness of 11mm Dreamwalk underlay is composed of a foam core with stitch-bonded paper backing and is manufactured in the UK. It has a high tog rating of 3.13 providing excellent levels of thermal insulation to keep your rooms warm.
In addition, a noise suppression rating of 44db will ensure that any room in which it is used stays quiet and calm. This is a high impact sound rating making this model suitable for upstairs rooms or for parts of the house that are particularly noisy.
The material is light and will be easy to manipulate and handle so you can easily place it in the most relevant area. It also cuts and fits with ease to ensure that shaping it to the exact specifications of your room, and laying it effectively without lumps or bumps, are as simple as possible.
This underlay is suitable for many different areas throughout the home but it should not be used in rooms with underfloor heating. People often try to choose between Dreamwalk or Cloud 9 Cumulus  as the two models have similar specifications. As usual, it really depends on your specific needs – though the Dreamwalk does have a slightly higher noise suppression and tog rating – take a look at both options before picking between Cloud 9 Cumulus or Tredaire Dreamwalk, as it isn't always easy to change your mind!
We hope this short Tredaire Dreamwalk review has helped you assess whether this particular model meets your needs – read on for more details of the full range.
Tredaire Colours Red – a Comfortable Medium Underlay That is Excellent for Noise-proofing
Tredaire Colours Red underlay has fantastic sound proofing qualities that make it suitable for rooms that experience a lot of noise in the day (such as busy offices or music practice rooms) or for higher floor flats in order to reduce disruption to downstairs neighbours. The noise suppression value is 46db, one of the highest ratings available on the market at this price.
Tredaire Colours Red underlay is manufactured from a dense sponge rubber material that recovers very quickly upon impact. This will make it feel comfortable and durable beneath any carpet or flooring for a long time after fitting, ensuring your floors are protected and comfortable underfoot.
The material also has excellent thermal properties to help keep rooms warm. The Tredaire red underlay's tog rating is 1.65, and the dense sponge ensures thermal insulation throughout the thick material is evenly distributed.
Hopefully this Tredaire Colours Red review has been useful and will help you make a more informed selection for your needs.
Tredaire Sensation – High Density Comfort
The Tredaire Sensation underlay model is made from very high density PU foam making it durable and comfortable – suitable for all sorts of rooms. The density specification is 145kg/m3 making this it a very long-lasting and responsive under impact.
The 11mm thickness and high-performing material make this product suitable for stairs and landings that see a lot of traffic. It is pliable and can be shaped to fit the steps, while also featuring a noise suppression rating of 43db to keep noise down.
The underlay features a tog rating of 2.89, which is a good value for high density material, and will help keep any room warm and comfortable. The material is also light and easy to cut to help create great finishes to carpeted floors.
We hope this Tredaire Sensation review helps you see the value of this high density model. More information is available at our product page.
Tredaire Softwalk – a Great Choice for Stairs
The 9mm thick Tredaire Softwalk underlay product is an excellent choice for placing underneath carpets on stairs and landings. The underlay provides all-round performance, reducing noise and helping to keep rooms and stairways warm and comfortable under foot.
It is also hardwearing so will cope with the traffic that these areas usually experience. This is made from recycled PU foam that responds very well under impact, making it durable and hard-wearing despite being just 9mm thick.
The underlay has a 2.69 tog rating, giving it a medium level of thermal insulation, and has a noise suppression value of 41 db – so the kids running up and down stairs won't bother you too much!
While we don't generally recommend using the same product throughout all of your house, if you do choose to do this then Softwalk is a good option as it will perform well in any room. It is easy to carry, store, cut and shape to your rooms and stairs, and will last a long time under normal use and conditions.
To sum up our Tredaire Softwalk review – a good all-rounder suitable for any room!
Tredaire Brio – a Medium/Soft Underlay for Thick Carpets
For rooms with thicker carpets you need a thinner underlay that can still provide excellent thermal performance. The Tredaire Brio model does just that, and is suitable for rooms in the home that aren't particularly busy or highly trafficked, such as lounges and bedrooms.
It ensures you can fit thick and luxurious carpets throughout the room without cutting doors or making other comprises. In fact, the underlay is only 8mm thick, making it suitable for stairs and landings too – where a thinner option is needed to fit the shape of the flooring.
Manufactured from PU foam the underlay is light (making it simple to transport) and easy to cut, shape and fit to any room. The material responds well to impact despite being a thinner product, and its use in rooms with less traffic than other parts of the house will ensure that it maintains its shape, warmth and feel for a long time under normal conditions.
Tredaire Brio also has a high acoustic reduction value of 32db for its thickness, making it perfect for noisier rooms (and people!) or for use upstairs. If you've found a thick carpet that you love, and now want the perfect underlay to go with it, Tredaire Brio could be a great option.
Tredaire Zest – a Heavy Use for High Traffic Areas
The 10mm Tredaire Zest underlay is a thick and durable material suitable for use beneath carpets in busy parts of the home. Areas such as landings, porches, halls and stairs see a lot of traffic in the day, more than lounges or bedrooms in which people are usually stationary, so it is important to fit one that can cope with the continual use.
The PU foam material responds very well to repeated impacts without affecting the structural integrity or comfortable feeling that the what's underneath, gives to your floors. It's also made of a metrial that will keep its performance for a long time, so you can be confident to fit it with new carpets.
Tredaire Zest can also help you smooth out the look and feel of carpets in any area of the house with its 10mm thickness. A good underlay enhances both the feel and the look of any carpet (when laid well) as well as prolonging its lifetime, and Tredaire Zest is a grest option for achieving this in busier parts of the house.
In addition, it has a very high tog rating of 2.64 ensuring some of the best thermal insulation performance available. Because nobody wants a cold hallway on a chilly winter morning!
Underlay4u carefully selects the best brands for our valued customers from a range of different suppliers, and we are pleased to stock an array of Tredaire products and models. The aim of this review is to help you choose between the different Tredaire brands and understand what different specifications to take into account when choosing any product.
If you have any questions about your needs, or about the products we offer, please don't hesitate to get in touch.