Everyone loves a nice new kitchen.
It is one of the most important and often-used rooms in a house and also has a huge effect on a property's value.
But a kitchen renovation is a big project and you should make sure you are properly prepared for it.
In this article we take a look at some of the typical steps in a renovation and discuss how to plan and prepare for each of them.
Of course, no kitchen upgrade is the same, but the advice shared in this article is designed to be applicable in many cases.
However, before we dive in to discuss different kitchen renovation ideas and recommendations, lets first consider what you'll do while you have no kitchen at all.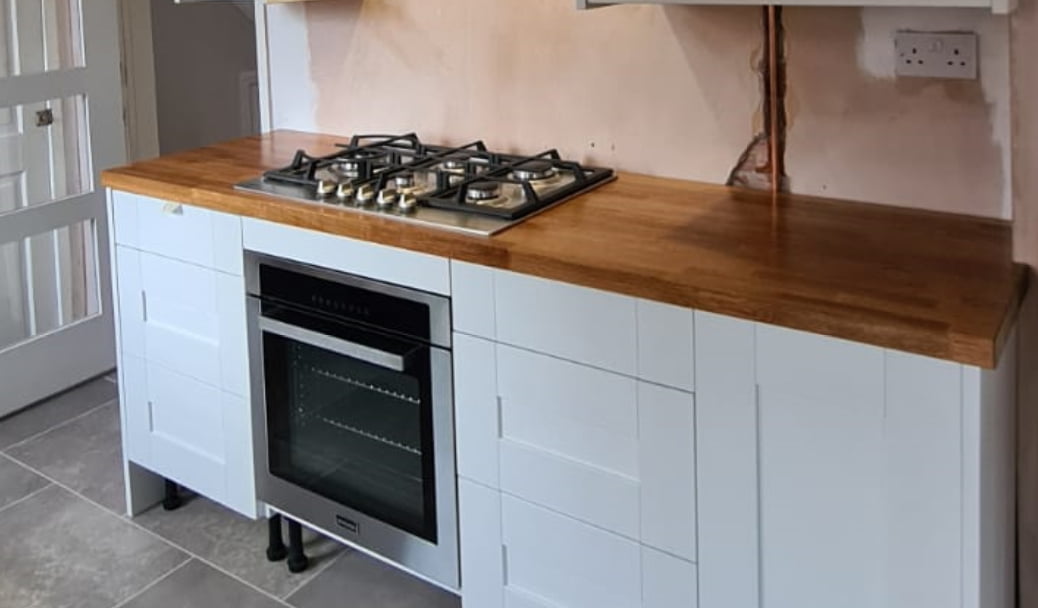 What will you do while the kitchen is out of action?
Unlike a bedroom, spare bathroom, or reception room, doing up a kitchen needs a bit of planning.
If, like most people, you only have one kitchen – what are you going to do if you have no fridge, oven, kitchen sink, or access to work surfaces for potentially weeks?
The obvious answer is to rely on friends or family, but that isn't always possible, so you might need to adapt your lifestyle a little bit.
You can certainly use any portable electrical appliance in a different room, meaning that kettles, toasters, microwaves etc. can be moved and used as needed.
For water you'll need to use a bathroom sink or outside tap (if you are comfortable doing so) or rely on bottled water.
The lack of a fridge is a problem so you may want to consider where this could be relocated or whether you can buy, borrow or hire a smaller "drinks fridge" even if just temporarily.
The oven and hobs you will need to do without, likewise any of your clothes washing facilities that can't be relocated.
Making all of these plans in advance will ensure your whole project goes a lot smoother. And also build in some contingencies for delays – as it can be very common for deliveries or work by tradesmen to take longer than planned.
In addition, your kitchen back-up costs will also need to factored in to your overall project budget, and this is the next point to address.
The timing and cost of a kitchen renovation
Kitchen renovation costs are driven by a few main factors:
The price of the units – including fitting and delivery,
Flooring, underlay, skirting and other fixtures,
Painting and other decorative touches,
Upgrades of appliances and large goods, and
Any major structural changes that might alter the layout of the room.
In terms of the full kitchen renovation cost UK DIYers should budget around £6,000 – £12,000 in total, without any major structural changes.
For most people the best time of year to do a kitchen renovation is usually summer. There are a few good reasons for this:
You can still use parts of the room even though the heating is deactivated,
It is much easier to leave units or appliances outside for short periods while you move things around as there is less rain, and
Most importantly, you will have more opportunities to use the barbecue while the oven is out of action!
Whenever you choose to upgrade your kitchen, there are certain jobs that need to be done in order before you can move on to the next.
In the article we have assumed that you are going through a complete renovation of your kitchen and have provided a suggested order for the steps needed along with advice on each of them – but you can skip over any that aren't relevant.
Floor and walls
The first job is to remove the existing floor units and flooring itself so that new kitchen units can be properly fitted, electrics and plumbing sorted, and the new floor put into place when ready.
How you remove the flooring will depend on the type of material you have. Laminate panels or cushion floor should come up quite easily, but tiles or LVT will take more effort – and it may be better to leave it in place if possible, as long as they are securely stuck.
Once the floor is removed next turn your attention to the walls.
Existing paint, tiling and wallpaper can be removed and replaced as per your designs.
Remember to choose materials that will be able to cope with the variations in heat and humidity that the kitchen environment produces too.
Plan the electrics
With the room stripped back you next need to determine where the electrical sockets should be placed.
This will depend on the design of your new kitchen surfaces and units, location of current sockets, worktop placement and where you want to put large items like the washing machine, fridge or oven.
Think about what you like and dislike about using your kitchen today.
Is it annoying that the toaster and kettle are on different worktops?
Do you like having the washing machine near the door so you can load it easily?
Will the fridge still fit in the corner once your new double sink is installed?
A qualified electrician can help you to finalise all of the placements of your sockets, switches and fuses to make sure everything is safe and convenient.
Remove the hob and sink sides
Before you can alter the décor, add new units or make other changes, you need to remove siding from the areas of the room where the hobs and sink were situated.
Firstly, remove the hob/oven side and clean the area as needed. Next do the same for the sink side.
Even if your sink and oven will be staying in the same location after the renovation, the sides should still be removed to make sure that your new units are secure, hygienic and look great.
Level the floor and walls
Now the room is essentially a shell, the next job is to make it all level and consistent.
You will need to start with the floor as this will probably take longer and require more materials, depending on its state, to level properly.
For the walls you will probably need to call in the plasterers, unless you are happy to do the work yourself.
A small kitchen renovation is doable unless there are major issues with floor and wall services, but larger rooms would benefit from tradesmen carrying out this work.
Install any gas systems
A qualified gas engineer is now needed to fit new gas pipelines or adapt existing systems.
It will be important that they understand exactly what your new hobs and oven will need.
If you are replacing a gas cooker with an electric system you will still need a gas engineer to secure and seal off the existing pipes while removing unneeded valves and other equipment.
Upgrade the floor
Once the room is ready the next task is to install the flooring.
This will involve adding the relevant underlayer for a kitchen and ensuring that any underfloor heating is properly installed according to the manufacturers' requirements.
In most cases it is recommended that professionals install underfloor heating systems as they can be difficult to set up and costly to change if things go wrong. Ensure your underlay tog rating does not exceed the manufacturer recommendations.
Most modern kitchen floors use some form of laminate for the surface – and it is possible to fit this yourself with a bit of preparation.
Install all kitchen units
The kitchen is now ready to have the new units fitted.
This is one of the most exciting steps and will need an experienced fitter to make sure everything lines up nicely and is secure.
Make sure you understand what the maintenance and finishing needs of your new units are. You might be required to clean off any minor blemishes leftover from packaging for example, plus you will probably want to make sure everything is hygienic before use.
Set up the oven and hob
With units and worktops all in ready working order you now need a way to cook the food stored and prepared on them!
An electrician and/or fitter will probably be needed to connect up the oven and hobs to the electricity and gas (if needed).
Make sure you keep the manual if things go wrong, and test out all aspects of a new system as soon as you can.
Situate all large appliances
Large white goods, such as your fridge, washing machine, dishwasher (if not integrated into the units) etc. can then be installed in the relevant spot in the kitchen.
Ensure you put these in carefully to avoid damaging your new kitchen units, floor and walls.
Finalise all room decorations
The last job, once everything major has been installed, is to paint the room and finalise any other parts of the décor.
You may want to put in new blinds or curtains if the existing ones no longer fit with the colour scheme or design of the kitchen.
In addition, you will also need to move back in any unfixed furniture – and this might also be an opportunity to enhance the overall feel of the kitchen with a few items that match the new colour scheme and design.
This could include vases and ornaments, table cloths, place mats and coasters, as well as replacement appliances such as toasters and kettles.
Pat yourself on the back!
A DIY kitchen renovation is no easy task – so if you make it to the end you should congratulate yourself for a job well done.
Hopefully this brief guide has been helpful in your journey, and now put that kettle on in the new kitchen!